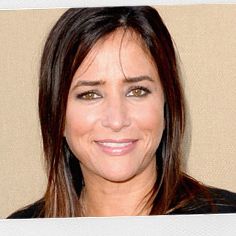 Name: Pamela Adlon
Age: "I play anywhere between 29 and 80."
Neighborhood: Upper West Side (split with Los Angeles)
Occupation: Actress, voice-over artist. Watch for her in an upcoming episode of Rake, and catch her next Monday, March 10 alongside Rachel Dratch, Debbie Harry, Richard Kind, and more in the Celebrity Autobiography comedy show at Stage 72 (formerly the Triad Theater).
Who's your favorite New Yorker, living or dead, real or fictional?
Louis C.K. Because he's really embraced everything great about New York and that I always loved growing up here, and was captivated by. And he loves to preserve the history and show New York for what it is. It's weird because Louis is like Mickey Mouse when he walks down the street — he's like one of those walkaround characters in Disneyland. We shot in front of the Comedy Cellar a couple of weeks ago and when people saw him, they were like, "Holy fuck!" 
What's the best meal you've eaten in New York?
All my best meals are when my friends and I cook for each other. But if I was gonna say in a restaurant, you know what I love so much? The tofu that they make at EN downtown. They make this silken tofu that's so soft in a bowl, and I crave it. It's just this bowl of cummy … It's like Silly Putty that was left out in the sun. It's melty and so good. I would also say Gray's Papaya.
In one sentence, what do you actually do all day in your job?
That would be anything from having crazy sex scenes to doing animated shows, and writing jokes.
What was your first job in New York?
I worked at Alice Underground when I was 16 or 17, which was a vintage clothing store on Columbus Ave. I used to steer people away from the items I liked because I was hoping to buy them, it was great. Cyndi Lauper used to come in. I also handed out flyers for the New York Pops. I couldn't fucking tell you how I got that job — I lived in the Carnegie House and I think that I stumbled on it because I went into Wolf's Deli and they were like "Do you want to pass out flyers?" And I was like, "Sure!" But I'd already been on television at that point so whenever I did other jobs, people were like, "Aren't you on The Facts of Life?" and I'd be like, "Let's not talk about it."
What's the last thing you saw on Broadway?
Once. I just saw it. It's so good, it's ridiculous. You have to go. And you have to go early, don't pop in at the last minute, because they're all onstage playing music when you come in and you get a show before the show.
Do you give money to panhandlers?
Sometimes, but I always give money to women.
What's your drink?
Tequila. Don Julio Añejo.
How often do you prepare your own meals?
Four to five times a week. I make anything from whole fish to roast chicken to steak — my kids love my steak. We also make mad salads. I'm always working on salad dressing — I have this salad dressing that I'm insanely proud of and I think is the hottest shit in the world. I always wow everybody with it. The one that really works the best is soy sauce with balsamic, a dash of olive oil, and Dijon mustard. It's heaven.
What's your favorite medication?
Tequila.
What is the best thing in or about your apartment?
Being away from the world. That it's private.
What's the craziest thing you've ever seen on the subway?
Okay, well there's two things: I don't know which beats what, but one was my 10-year-old climbing up the pole with her bare feet to the top, and just holding on to it with her legs straddled and her toes wrapped around the pole. But I don't know if that beats seeing a woman breastfeed her six-year-old.
When was the last time you stayed out past 3 a.m.?
Oh god, only for shooting.
Which do you prefer, the old Times Square or the new Times Square?
I gotta say I like the new Times Square but I like the old Times Square because it was so forbidding and exciting and that's where I got my fake I.D.s.
What do you think of Mayor de Blasio?
I guess I think every kid should go to pre-school , because the moms need the kids to get the fuck out of the house. Other than that, I wish him luck.
What do you hate most about living in New York?
The shoe choices on really bad snow days. And the garbage on the street is a bummer. But the hard part is the elements.
If you could banish one person from New York forever, who would it be?
Anyone who proselytizes for any religion. I'd ban them from every city.
When's the last time you drove a car?
All the time, Vanita! I drove this morning — I'm in L.A. I never drive in New York, though.
Finish this sentence: The NYPD _____.
Is sexy. What the fuck am I supposed to say? I don't have an opinion about cops. I'm too scared.
Times, Post, or Daily News?
The Times.
Where do you go to be alone?
Home, or walking around.
What makes someone a New Yorker?
You're either from here or you end up here because of the culture and the food and the theater. And you can strike the right balance between freezing, wet cold and indoor heat and air deprivation.