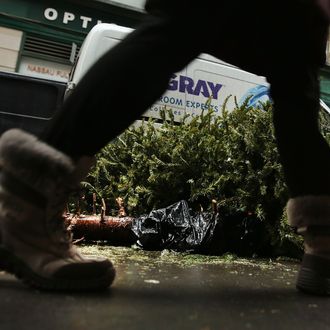 A person passes discarded Christmas trees along a sidewalk on January 14, 2014 in New York City. With thousands of trees being thrown out following the holidays, the New York City Parks Department is planning to use trees donated to the city's Mulchfest recycling program to create dunes along portions of beach at the Rockaways to help fight erosion following Hurricane Sandy. The man-made dunes, which will include up to 3,000 old Christmas trees, are part of a larger program by the city and the U.S. Army Corps of Engineers to strengthen the beach at Rockaway.
Photo: Spencer Platt/Getty Images
Park Slope residents are pointing to another casualty of the never-ending winter: dead Christmas trees, denied a proper burial. Since it started snowing and never stopped, the once-festive decorations are still strewn about Park Slope, reports DNAinfo, which counted about two dozen trees and other holiday detritus on neighborhood blocks. The Department of Sanitation said garbage collectors plan to pick up the trees, but can't if they remain frozen to the sidewalks. "But they're getting so gross that my dog ignores them now," one resident said. That's right, even peeing dogs are sick of them.