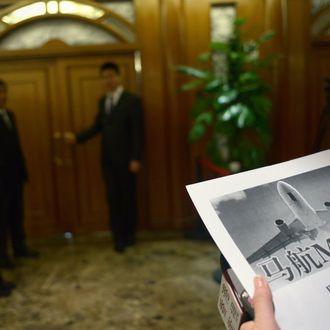 During a Wednesday press conference, Malaysian officials said that files had been deleted from the flight simulator removed from the home of Flight 370 pilot Zaharie Ahmad Shah. "The experts are looking at what are the logs, what has been cleared," said police inspector general Tan Sri Khalid Bin Abu Bakar. The programs "can often replicate specific airports and flight paths," according to the New York Times. Zaharie's files were deleted on February 3, five weeks before the Malaysia Airlines plane disappeared.
Malaysian defense minister Hishammuddin Hussein cautioned the public against jumping to blame Flight 370's crew for whatever happened to it. "For the sake of their families, I ask that we refrain from any unnecessary speculation that might make an already difficult time even harder," he said. He also said that background checks had been conducted on all of the plane's passengers, with the exception of three from Ukraine and Russia, and "no information of significance on any passengers has been found."
Prior to the briefing, several protesters who said they were there on behalf of the passengers' understandably frustrated families unrolled a banner that read, "We oppose the Malaysian government concealing the truth. Delaying time for saving lives." "I want you to help me to find my son!" yelled a female demonstrator as she was removed from the room.