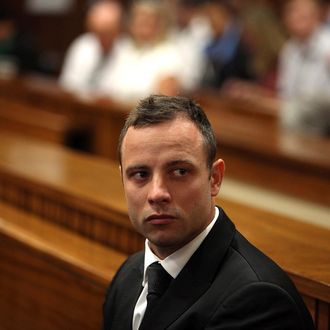 Oscar Pistorius at the Pretoria High Court on March 5, 2014, in Pretoria, South Africa. Oscar Pistorius, stands accused of the murder of his girlfriend, Reeva Steenkamp, on February 14, 2014. This is Pistorius' official trial, the result of which will determine the paralympian athlete's fate.
Photo: Alon Skuy/The Times/Gallo Images - Pool/Getty Images
The double-amputee runner accused of intentionally killing his girlfriend, Reeva Steenkamp, might be spending as much as $9,000 a day on his closely watched South African trial, which is now expected to last longer than its scheduled three weeks. According to Pistorius's lawyer, it has "become necessary" to part with the Pretoria villa where Steenkamp died — not only to raise funds, but because his client "cannot contemplate ever returning to live there again." The Olympian, free on bail, has been living with family since the shooting.