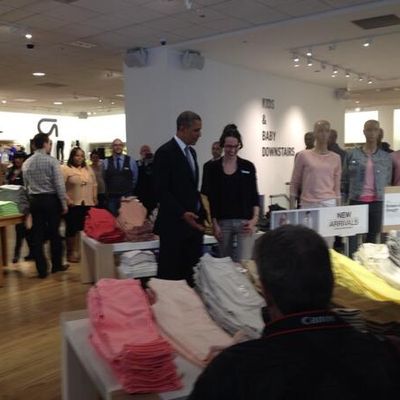 President Dad-Jeans #Normcore is in town this afternoon ahead of an exclusive $32,400-a-head fund-raiser, and he's spending the intervening hours as a man (from out of town) of the people. At the Gap. On 42nd Street.
Basically, Obama is channeling The Office's Michael Scott, who once said, "I always like to come to New York a little bit early and hit some of my favorite haunts," like Sbarro for "a New York slice."

According to the White House pool report, "President Obama is doing a little shopping for his wife and daughters." But also, politics:
In his State of the Union address, the President called for businesses to raise workers' wages, and today the President will visit a Gap store to show his support for Gap Inc.'s decision to increase wages for their US based employees.
He reportedly spared the world more ill-fitting khakis: