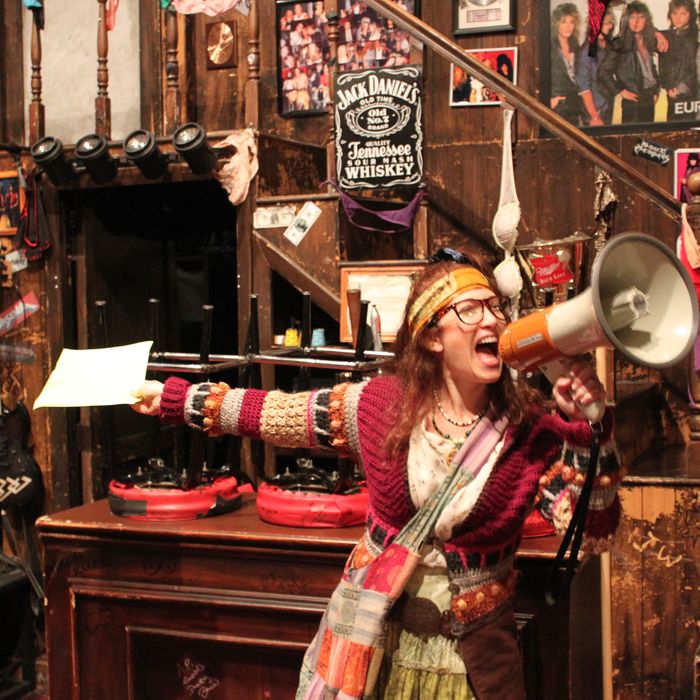 Randi Zuckerberg in her Rock of Ages costume.
Photo: Sally Kohn
During a speech last year at a Broadway-themed TED event, Randi Zuckerberg, the big sister of Facebook's founder and author of the best-selling "Dot Complicated," talked about how social media and theater increasingly intersect. She also confessed that her childhood dream was never to be a tech geek, but "to sing and dance on Broadway."  Producers took note and Zuckerberg has gotten her wish: On March 14, she started a two-week run performing in the musical Rock of Ages. She had performed in an a cappella group in college and in an employee band at Facebook (where she worked until 2011), but the Broadway stage is a big step up.
In the '80s hair-band-themed show, Zuckerberg's character is a hippie activist leading the fight against the re-development of the seedy Sunset Strip.  Billed by the show as a "Social Media Rock Star," she has done her share to generate buzz.
How was opening night?
As soon as they announced on the loudspeaker, "Making her Broadway debut tonight …" I was on an adrenaline high. The theater was sold out and I had over 40 friends and family in attendance. After the show, the entire cast and crew did a Champagne toast and brought in burgers from Shake Shack. 
Have you caught the Broadway bug? Is a career shift in the making?
Have you ever felt like you were born to do something? Being up there on the stage, I just felt this sense of, Wow, so this is what it feels like when you're at the intersection of being passionate about something AND getting paid to do that same thing. I'm excited to find ways to apply that to my own business when I return to California, especially with a lot of the public speaking I do. 
Your part of the plot is arguably a bit anti-capitalist, certainly anti-big money development. You even call the folks you're rallying "comrades." Does that strike you at all as a bit ironic, considering you and your family's own business success? Does part of your plot line ring true to your own life experience?
When I was developing the part, I actually found myself reading a lot about and calling upon the current struggles in San Francisco — the income disparity, the gentrification of the city with so much incoming tech wealth, the large homeless population. And that's what I drew upon to create my character. She's fighting to preserve L.A.'s Sunset Strip in the '80s.  But in my mind, she could easily be protesting in San Francisco today. I'm not saying that I agree with her personally. Some of her antics are completely over the top, ridiculous, and seemingly pointless — much like people throwing rocks at the Google shuttle buses in San Francisco today, causing destruction and harm to innocent people just to make a point. But in researching this role, it definitely made me see a new side of the story and forced me to put myself in the shoes of someone who loves their city and sees it changing into something completely foreign, right before their eyes. Change is really hard, and I admire her courage and fearlessness in standing up for what she believes — but at some point, we all need to realize that nothing stays exactly the same forever.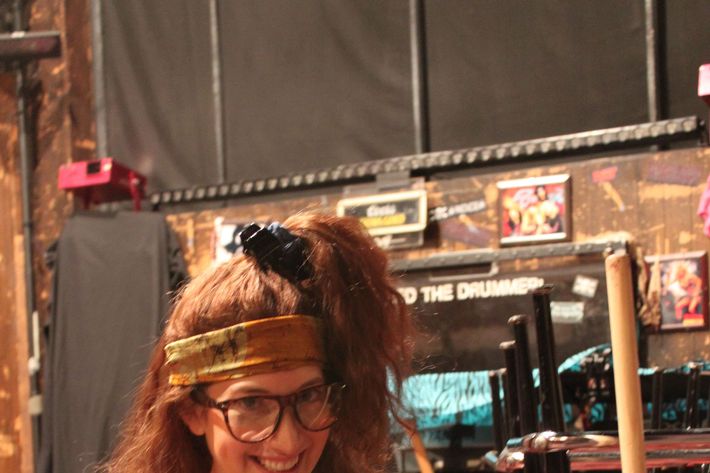 What's your favorite part of this whole experience? What is the hardest part?

My favorite part was putting myself so completely out of my comfort zone — really challenging myself to do something that excited, but terrified me — and seeing what happens when you just leap off a cliff and push yourself to try something new. 
The hardest part for me has been vocal health. Doing eight shows a week is tough! I went from hardly singing to belting out eight shows a week, which would be akin to going from occasionally jogging to running ten-plus miles every day. My voice is tired and raspy and hoarse every night when I go home, and I am really figuring out what it means to take care of your body in a new way — right now, my body is my livelihood.
What's your dream role if you do another Broadway show?  
I'd probably choose a role in Children of Eden, Fiddler on the Roof, or Carousel. The song "When You Walk Through a Storm" from Carousel has weathered me through many moments in my life. I'm also a big fan of comedy, so a chance to do something like Book of Mormon would be a thrill. And of course, there's a part in me that has not-so-secretly always wanted to play a Disney princess.