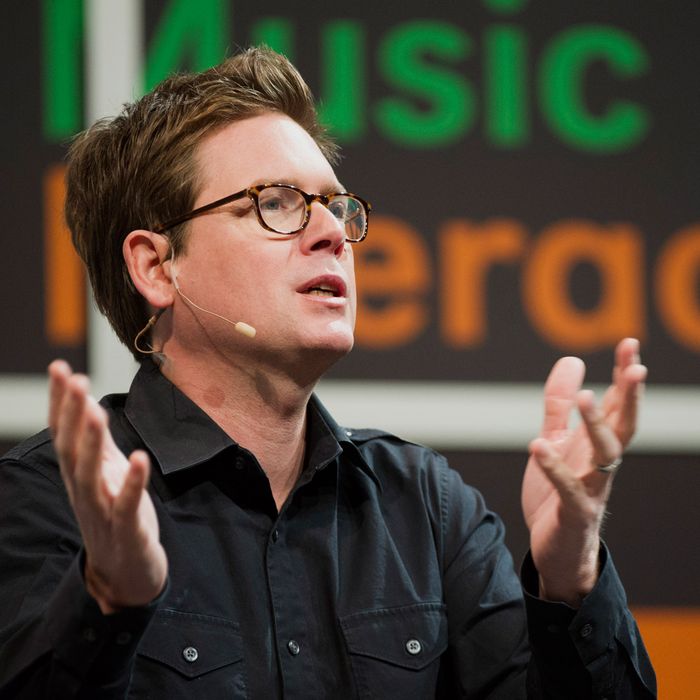 Photo: David Paul Morris/Bloomberg via Getty Images
For Biz Stone, coming to SXSW Interactive must feel like taking a victory lap. He's a regular at the annual Austin tech conference, and in 2007, his fledgling company – Twitter, which he co-founded with Jack Dorsey, Evan Williams, and Noah Glass – was the unanimous star of the show. It won an award (Biz put up a celebratory blog post), and got flooded with new users – a growth spurt that continued all the way to last year's $25 billion IPO, and solidified SXSW's reputation as a tech kingmaker.
Seven years later, Stone is back with a new company – Jelly, a social search app that launched to fanfare last year (but has since fallen on the charts). He also has a book coming soon – Things a Little Bird Told Me, a compendium of his musings on life and creativity, which hits shelves on April 1. I sat down with Stone, on the day after his 40th birthday, to discuss the evolution of SXSW, his book, and why he's not retired already.
It must get weirder and weirder for you to come to SXSW every year.

Back in the day, it wasn't like this. In 2003, 2004, 2005, it was just nerds, and it was pretty sparse. Then the cool music guys started coming in. Now it's where you launch your thing.

This is my first time here.

Oh, man. It's not what it was. It's almost like if Coke bought it and turned it into something. When we were here, there was no iPhone. There were no apps. I think there's a conference called XOXO, I've heard good things about it. It's in Portland, and it's much more chill. They're trying to re-create the early feel of this place.
What's your favorite memory from SXSW? A crazy party?
We used to throw our own party for Blogger. This conference always falls on my birthday, and one year, Google gave us $10,000 to rent out a bar and give out free whiskey and beer. I always pretended it was my birthday party.

What did you think of Nick Bilton's book about the founding of Twitter?
I only read the parts about me, and he made me sound like a great guy. Sounds good to me. I am a great guy!
It's too bad your book isn't for sale yet. You're doing a panel today, right? You could be signing a ton of books here.

Not until April 1. But it's okay. That would be kind of embarrassing, anyway. I can imagine, like, Paul Newman signing books. But who wants a book signed by Biz Stone?

You know, you're going to have to sign books at some point.
I think I can just say no. I think I just don't go. They can't put me in publishing jail.
Speaking of books, I was just reading Ben Horowitz's book about start-ups. It's really depressing. It's all about how shitty it is to be a start-up founder. He compares building a start-up to going to war – he makes it sound like this awful, vomit-inducing thing.
A lot of these guys, especially men, treat business like war. Like, The Art of War, Wall Street, all that stuff. How about giving people an aspirational vision of the future? Where, you know, all of this stuff is great and it's leading humanity down a path towards something better? Why does it have to be so bad?

You didn't have to do another start-up. You don't need the money. So why are you putting yourself through it again?
Well, first of all, I don't think it's that horrible. I have a much rosier outlook than most people. [Twitter co-founder] Evan Williams always accuses me of spinning things positively. But I'm not spinning it. In my book, I talk about bright-spot theory — finding the bright spots. When everything sucks, and everyone agrees that nothing's good, something's good. Find what the good thing is, whatever it is, and go from there.
Where does Jelly fall in that scenario? Is it sucking? Or is it in a bright spot?

We launched, and everything was crazy amazing. We looked like the most successful start-up of all time. And then everything crashed. I told everyone, "Guys, this [makes steep uphill gesture with his hand] means it's gonna go like this [steep downhill gesture]." I tell people, if you're trying to lose weight, you don't look at the scale every day. You have to look at it over a month, if it's going up or down. We're at the point now where we know we have a thing that works. But we need to wire it up right, and put the ingredients in the right order, so it works really, really well.
People have had what we're calling "Jelly moments." One guy's 2- or 3-year-old daughter kept saying, "I want to play Angry Birds, the crash crash boom boom level." He couldn't understand what she meant, and he was desperate. He finally turned to Jelly, and he was like, "My daughter wants the Angry Birds crash crash boom boom level, can someone help me?" And another father was like, "I think she wants Cut the Rope, not Angry Birds." And that's exactly what she meant. You need a human to answer that.

Before the interview, I asked Jelly what I should ask you. Can I ask some of these questions people submitted?
Sure.

Okay, here's one: "What are his favorite pizza toppings?"
Oh, come on.
"How much Twitter stock has he sold?"
Jeez.
No? Okay, next question: "Will Jelly compete with or complement Twitter? How so?"
Well, Jelly's a search engine. But it complements it right now. It takes your Twitter network plus your Facebook network, blends it into one agnostic network. Jelly's purpose-built to help people – Twitter's a broadcasting mechanism.
"What's the next step for Jelly? Are there more features coming?"
Why do people ask if there are more features coming? "No, it's frozen!" What I will say is that there will be better quality answers, and better ways of asking questions. Those are two immediate things.

Last one: This guy asks, "How will you monetize Jelly?"
I'm not going to say specifics, but we're in the search business, and that's a good business if you want to make money. If someone wants to give us money, and they can help people and answer their questions, great, they can give us money. But only if they can do that. It sounds crazy, but it'll somehow work.
This interview has been condensed and edited.