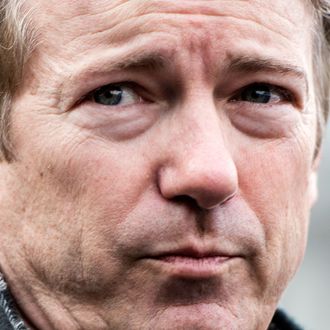 Don't make him go back to ophthalmology.
Photo: Brendan Smialowski/AFP/Getty Images
Senator Rand Paul is doing everything he can to prepare for a presidential run in 2016, but he's not going to put all of his eggs in one very powerful basket. The Washington Times reports that Paul has asked the Kentucky Senate for legislation that will ensure he can run for both the White House and a second Senate term in 2016. "Yes, I am working on clarifying an ambiguous state law that Rand Paul believes is unconstitutional if it is interpreted to bar running for re-election to the Senate and for president at the same time," said Kentucky Senate Majority Leader Damon Thayer. Paul's move isn't unprecedented; Paul Ryan, Joe Biden, and Joe Lieberman all ran for reelection to Congress while seeking the vice presidency. However, he may be forced to choose. An anonymous Kentucky GOP operative told he Times that Democratic House Speaker Greg Stumbo has told colleagues there's no way he'd let the bill pass. Add another name to the list of people Paul would like to duel.