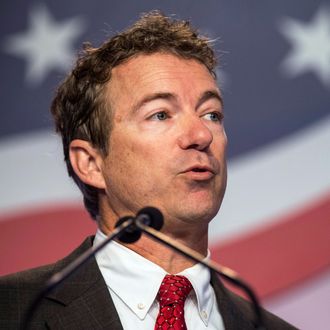 Senator Rand Paul (R-KY), speaks at the 2013 Values Voter Summit, held by the Family Research Council, on October 11, 2013 in Washington, DC. The summit, which goes for three days, is attended by a number of Republican senators and high profile conservative voices in American politics.
Photo: Andrew Burton/Getty Images
And for the second year in a row, too. Paul the Younger received 31 percent of the vote at this year's Conservative Political Action Conference, handily beating second-placer Ted Cruz, who got only eleven percent. Meanwhile, Chris Christie received eight percent of the vote, which is probably less than he would have had Republican meetup been held a few months ago.