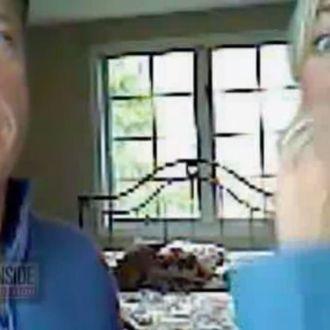 New Jersey homeowner Richard Weiner is suing two Coldwell Banker real-estate agents for repeatedly fornicating all over his house while it was on the market. "They used our home as a cheap motel," said Weiner, who responded to a counter-suit from the pair claiming extortion by sending his secret-camera footage of the trysts to Inside Edition. The money shot is when Robert Lindsay and Jeannemarie Phelan, the sneaky duo, both look directly into the camera and gasp.
Lindsay "intentionally listed the house above market value" at $650,000, according to the lawsuit, and failed to sell it by design. "All visits were for sexual encounters," the suit claims.
"The alleged misconduct at the home does not in any way represent how we conduct business as a company and that immediately after learning of the allegation of improper behavior the company ceased affiliation with the agents," assures Coldwell Banker.
The $1 million counter-suit alleges that Weiner "went on to say that there would be an opportunity to settle the matter privately, before the media gets hold of the information." True or not, that moment has since passed.