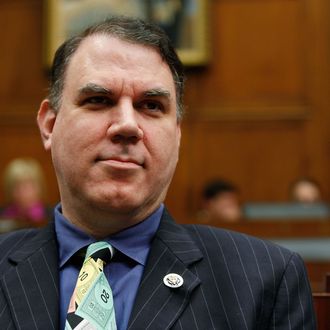 Photo: Mark Wilson/2009 Getty Images
Representative Alan Grayson's wife has accused him of shoving her last weekend, leading a judge to issue a temporary protective injunction against the Florida Democrat. Lolita Grayson, who filed for divorce two months ago after nearly 24 years of marriage, says her husband "showed up, unannounced" at their home and asked to speak to her inside. Her petition for the injunction says that when she refused, he "deliberately and with force pushed [Lolita Grayson] very hard against the front door, causing [her] to fall to the ground as a result," according to the Orlando Sentinel. She also claims her husband "has battered [her] and the parties' minor children," from "time to time" in the past.
Lolita Grayson says she pushed her husband in the face and kneed him in the stomach to defend herself before calling 911, and submitted photos of her bruises.
The congressman's office released a statement saying, "Sadly, it was Ms. Grayson who physically attacked the Congressman as he attempted to visit with his children. He did not respond to Ms. Grayson's violent assault." It also alleged that Lolita Grayson has become "increasingly erratic" in recent weeks, and her husband "is deeply concerned by her recent behavior and is profoundly pained by her accusations." Juan Lopez, the congressman's director of constituent services, said he witnessed the incident and Grayson never shoved his wife.
Representative Grayson was first elected in 2008, lost in 2010, and returned to Congress in 2012. He is seeking reelection in November. 
Update: On March 7, officials with the Orange County Sheriff's Office said probable cause didn't exist to support Lolita Grayson's allegations, and the congressman will not be charged. "Today the Orange County Sheriff's Department confirmed what we have known all along: Congressman Grayson did nothing wrong," his office said in a statement. "We are relieved that this ridiculous ordeal is over, and that the Congressman can continue to focus on taking care of his family and serving his constituents."