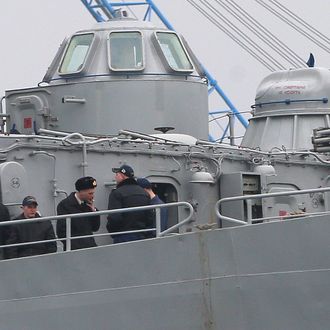 Photo: Krasilnikov Stanislav/ITAR-TASS Photo/Corbis
Over the last few days, Russian forces have taken control of Ukraine's Crimean Peninsula, including its military bases, border posts, and a ferry terminal. On Monday, a Ukrainian military official said that Russian troops have issued an ultimatum to two Ukrainian warships in Crimea's Sevastopol harbor: Surrender by dawn on Tuesday or "face a full-scale assault on the units of Ukrainian military in Crimea. Russian defense ministry spokesman Vladimir Anikin has dismissed the report as "total nonsense"; journalists on the scene say that they heard Russia's ships giving Ukraine their deadline. 
A State Department spokeswoman responded by saying that a Russian threat to Ukraine's navy would be a "dangerous escalation" of the crisis and that Russia would be "held directly accountable" for its actions, though she did not specify how. Later on Monday, President Obama told reporters that Russia's actions have put the country "on the wrong side of history." "What we are also indicating to the Russians is that if, in fact, they continue on the current trajectory that they're on, that we are examining a whole series of steps — economic, diplomatic — that will isolate Russia and will have a negative impact on Russia's economy and its status in the world," he added.
Meanwhile, British foreign secretary William Hague visited Kiev and, in an echo of the comments Obama made about the situation on Friday, warned that Russia would face "significant costs" if it does not withdraw from Ukraine. "The world cannot just allow this to happen," he said. "The world cannot say it's O.K. in effect to violate the sovereignty of another nation in this way." Russian foreign minister Sergey Lavrov responded by saying that his country's troops will remain in Ukraine "until the normalization of the political situation."
This post has been updated throughout.