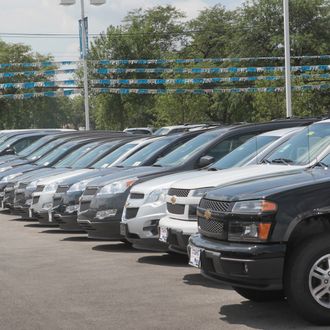 Photo: Scott Olson/2011 Getty Images
A new review of federal crash data indicates that as many as 303 people died after airbags failed to deploy in two of the models General Motors recalled last month. This contradicts the company's claim that only 12 deaths could be linked to a defective ignition switch. The company initially recalled 778,000 vehicles and expanded that to 1.6 million vehicles two weeks later. Consumer complaints related to these issues date back almost a decade.
The review was conducted by the Friedman Research Corporation, a company that analyzes vehicle-safety data, and commissioned by the Center for Auto Safety, a private watchdog group in Washington critical of the National Highway Traffic Safety Administration for not having detected these malfunctions earlier. Friedman Research looked at all cases in which airbags failed to deploy in the two models — the 2005–2007 Chevrolet Cobalts and 2003–2007 Saturn Ions — from 2003 to 2012, using data from the Fatality Analysis Reporting System (FARS).
Unsurprisingly, General Motors has criticized the study. "As knowledgeable observers know, FARS tracks raw data," said GM spokesman Greg Martin. "Without rigorous analysis, it is pure speculation to attempt to draw any meaningful conclusions."
Under scrutiny this week from the US Congress and Justice Department, GM has begun an internal investigation. "Research is underway at GM and the investigation of the ignition switch recall and the impact of the defective switch is ongoing," Martin said. "While this is happening, we are doing what we can now to ensure our customers' safety and peace of mind. We want our customers to know that today's GM is committed to fixing this problem in a manner that earns their trust."
The Justice Department's investigation could end in criminal charges, in which case GM would have a very long road indeed to restoring customers' trust.