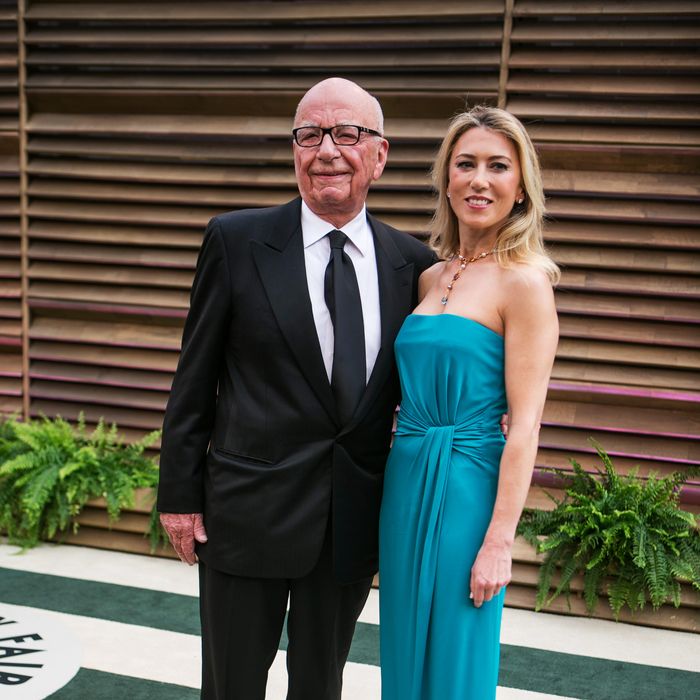 Photo: ADRIAN SANCHEZ-GONZALEZ/AFP/Getty Images
News Corp. and 21st Century Fox boss Rupert Murdoch apparently does not hold a grudge against Vanity Fair for airing out his marriage, including ex-wife Wendi Deng's obsession with Tony Blair's butt and that time she allegedly abused him. The 82-year-old mogul, who one could argue came away from the exposé looking like the victim of a ruthless gold digger, was at the magazine's annual Oscar bash last night with a new friend, 44-year-old Silicon Valley investor Juliet de Baubigny. She, too, has gotten the Vanity Fair treatment in the past.
From last year's "Silicon Valley's Most Stylish":
As a partner at a high-powered Menlo Park venture capital firm and a board member at Product (RED), Juliet de Baubigny's personal style is a striking balance between powerful professional and passionate philanthropist. The mother of two is often seen in structured shift dresses, belted frocks, and flowing asymmetrical gowns, many of which she's likely bought online at her favorite online shopping sites, Net-A-Porter and Kirna Zabete. Some of her choice designers include Derek Lam, J. Mendel, Azzedine Alaia, Chanel, and Alexander McQueen.
The fashionable venture capitalist was also spotlighted by Gwyneth Paltrow in her famously out-of-touch newsletter GOOP, back in 2010 (Valleywag notes that de Baubigny got a divorce in 2012). Some highlights from her "day in the life" feature include:
I'm an early bird—so I try to seize "Juliet time" first thing in the morning. […]

Hair: A great time saver is to have a weekly blow out. This means that you don't need to wash your hair each day—the time that you save with a blow out can save you minutes in the morning. […]

The power of the list: My great friend, Sheryl Sandberg, COO of Facebook, shared with me a great tip, when we were both on maternity leave after the birth of our first child, to create key spreadsheets to help manage your home life; for example, travel check list (clothes, toys that each family member needs to bring with them for travel.
Murdoch, perhaps the most eligible octogenarian bachelor out there, had been tenuously tied to his massage therapist, although maybe that was just a rebound thing. (He also has a new four-floor, $57 million NYC penthouse at which to entertain his friend from the other coast.) But the Daily Mail cautions, "the venture capitalist was not the only woman surrounding Murdoch at the party on Sunday night. Murdoch was surrounded by a flurry of young women at the Hollywood party." So he may not be ready to settle down again just yet.