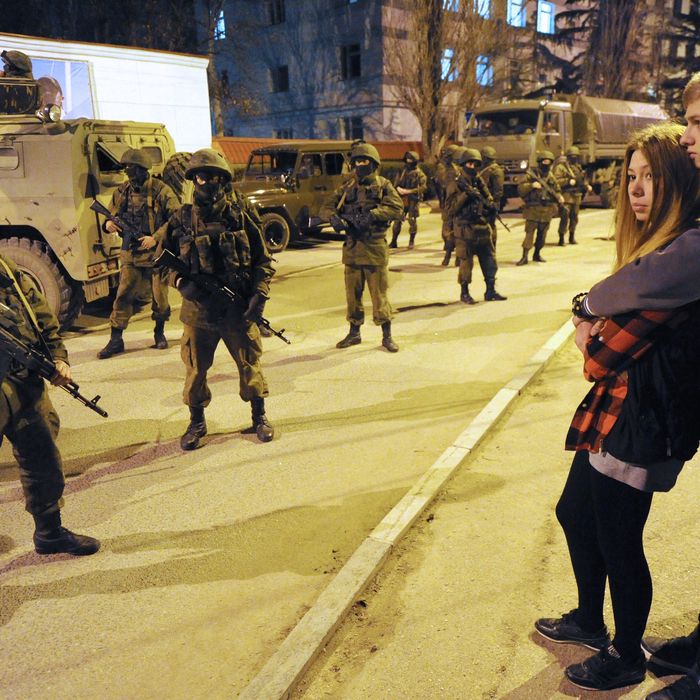 Despite President Obama's Friday warning that there would be "costs" to Russian military intervention in Ukraine, Vladimir Putin asked the upper house of Russia's parliament for permission to use force in the country on Saturday. The request — largely seen as a formality — was unanimously approved, according to the Kremlin. Troops allied with Moscow are already largely in control of Crimea, an autonomous region within Ukraine mostly populated by ethnic Russians.
Hours before Saturday's vote, Crimea's pro-Russia prime minister Sergey Aksyonov, who was very recently installed after armed men seized control of the regional parliament, appealed to Putin "for assistance in providing peace and tranquillity on the territory." In Kiev, acting Ukrainian President Oleksandr Turchynov signed a decree calling Aksyonov's appointment illegal. "We perceive Russia's actions as direct aggression towards the sovereignty of Ukraine," wrote Turchynov on Twitter on Saturday in response to Russia's latest move.
In a televised address, Turchynov said that he has put the country's military on high alert because of the threat of "potential aggression." Though a Putin spokesman said that the Russian president had not decided whether to exercise his new right to use force in Ukraine, NBC News reports that Ukraine accused Russia of sending an additional 6,000 troops to Crimea on Saturday. While Reuters reports that so far there has been "no sign" of Russian military activity in Ukraine outside of Crimea, pro-Russian demonstrators have been flying Russian flags atop government buildings in eastern cities such as Kharkiv, Donetsk, Odessa, and Dnepropetrovsk.
The situation turned particularly violent in Kharkiv, where "thousands" of pro-Russia demonstrators — some of them wielding "axe handles and chains" — took on a smaller group of people rallying in support of the new government in Kiev:
Meanwhile, the United Kingdom has called for the United Nations Security Council to hold an emergency meeting over the situation in Ukraine, after already having discussed the issue on Friday. The session, which will take place on Saturday afternoon, can be watched live here. (For anyone who didn't pay attention in social studies class: Russia is a permanent member of the Security Council, which means they can veto any actions suggested by other nations.) U.N. Secretary Ban Ki Moon said that he was "gravely concerned" about the prospect of Russia sending troops to Ukraine, and added that he planned to speak to Putin about the decision.
Several European leaders were quick to criticize Russia's actions: "Cool heads now need to prevail," said Finnish Prime Minister Jyrki Katainen. "I wish that all parties, including Russia, will try to calm things down." According to a statement from the office of François Hollande, the French president believes that "everything must be done to avoid outside intervention and the risk of a highly dangerous escalation." And, at a Saturday event in Berlin, German Chancellor Angela Merkel, who has been conducting regular phone calls with Putin, spoke about the importance of maintaining Ukraine's sovereignty. Speaking at the same event, top EU official José Manuel Barroso called the events in Ukraine "unthinkable in the 21st century in the European continent."
On Saturday afternoon, the White House announced that Obama spoke to Putin on the phone for 90 minutes. Obama is said to have expressed his "deep concern over Russia's clear violation of Ukrainian sovereignty and territorial integrity, which is a breach of international law." In addition to urging Putin to withdraw his troops from Ukraine, Obama warned him that a continuation of Russia's current behavior would "negatively impact" the country's "standing in the international community," starting with the suspension of the United States' cancellation of preparatory meetings for the upcoming G-8 summit in Sochi. In the meantime, Obama has "directed his Administration to continue working urgently with international partners to provide support for the Ukrainian government, including urgent technical and financial assistance."
According to a Kremlin press release, Putin responded to Obama's admonishments by drawing his attention to the "provocative and criminal actions on the part of ultranationalists who are in fact being supported by the current authorities in Kiev." Putin is also said to have noted that "Russia retains the right to protect its interests and the Russian-speaking population" of Crimea and the rest of Ukraine. So settle in, everybody.
This post has been updated throughout.