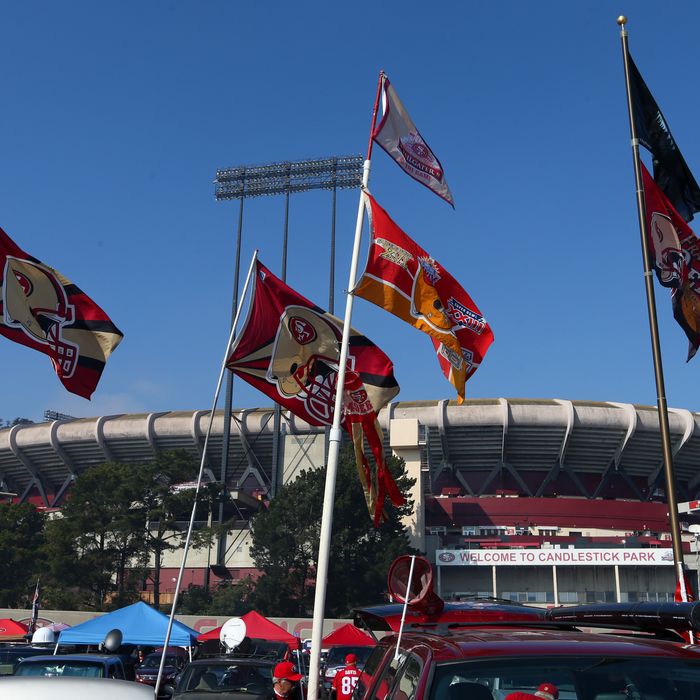 Candlestick Park in San Francisco, California.
Photo: Brad Mangin/Getty
Candlestick Park is proof that San Francisco can get nostalgic about anything. A strange monument to a bygone people's failed futurism, the former home of the Giants and 49ers is built of old-time patronage and reinforced concrete, located near an abandoned shipyard turned Superfund site. A few turns out of the stadium parking lot and you're in Bayview-Hunters Point, a long-neglected, predominantly black neighborhood where pollution from the Navy's radiological lab and a local power plant have resulted in high rates of cancer and asthma. "Candlestick was the backdrop to my childhood," says Kevin Epps, a local filmmaker who first documented the neighborhood's struggles in 2003's Straight Outta Hunters Point. "But it's like a one-sided relationship. The Niners got all the love, but in terms of opportunities for the community, there was none."
Isolated on the southeastern tip of San Francisco, the flatlands and repurposed barracks of Hunters Point were largely unaffected by the city's late-1990s boom, its Third Street artery dominated by liquor stores and shuttered windows. Epps began noticing changes along 3rd as he filmed his 2011 sequel. In 2007, the city linked the neighborhood to the rest of San Francisco with light-rail service, sprucing up Third with palm trees and public art. The first new grocery store in decades opened two years ago. "It looks weird," Epps says. "It's like some people are still trapped in time as the scenery is changing."
The thing about gentrification is how intuitive it appears in retrospect—how the answer was always nearby, as soon as that first person looked at a warehouse and saw somewhere to live. There are more bars, cafés, and young professionals, Epps jokes, "from Boston and New York." Plans are under way here for the city's most ambitious redevelopment project since 1906, when an earthquake decimated San Francisco. Over the next decade, waterfront condos, retail space, and parks will go up where Candlestick once stood. The toxic and long-abandoned Hunters Point naval shipyard will finally be decontaminated and replaced by environmentally responsible development. Those who move into the 10,000 new mixed-income residential units will know this place by a new name: the San Francisco Shipyard.
San Francisco is too expensive for ruins. The last time I went to a 49er game, a friend showed me a shortcut to Candlestick. As we approached from the southwest, it felt like we were cutting through unmapped lands: fields of flagging reeds, a maze of dirt-lined back roads. It was like driving into the past. Even as the city had changed, tailgating before a Niner game still drew an eclectic multitude, from tech oligarchs perched on crates of wine to acid-casualty bikers to the melting pot of slangy young smokers. It felt like one of the last places in the city where the rich and the poor sat next to each other, everyone holding their phones to the sky in search of a signal.