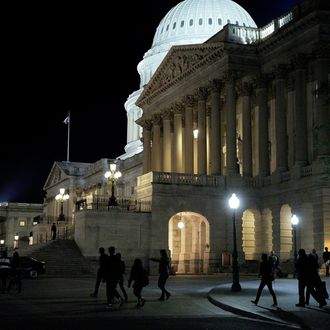 Photo: T.J. Kirkpatrick/2014 Getty Images
Members of the Senate are getting less sleep these days, and they can blame Rand Paul. Inspired by Paul's career-boosting Mr. Smith Goes to Washington moment last year, 26 Democrats decided to stage a filibuster on Monday night to draw attention to the issue of climate change. Except, their demonstration is actually more like Ted Cruz's 21-hour Obamacare fauxlibuster, since they aren't preventing or delaying a vote. Senator Brian Schatz of Hawaii, who organized the effort, described it as an "opening salvo" to show "that we're taking this seriously and there is a stirring in the Senate around this issue."
The Senate Democrats, who refer to themselves as the "climate caucus," plan to speak from 6:30 p.m. Monday to 9 a.m. on Tuesday, and will continue making regular speeches about the issue on the Senate floor. The New York Times reports that they're well aware that the Republican-controlled House won't pass significant climate change legislation anytime soon, but they hope their efforts will help lay the groundwork for such a bill in the next three to five years.
President Obama has said that dealing with climate change is one of his top second-term priorities, and the administration is supporting the senators' effort by tweeting throughout the night:
While Republican Senator Lindsey Graham said the group is made up of "good people" who "sincerely believe that climate change is a reality and a real harm to the planet," many in the GOP dismissed the effort as a stunt meant to placate environmentalists such as California hedge-fund billionaire Tom Steyer, who has said he intends to spend up to $100 million in the midterms to help elect candidates who support stronger climate change legislation.
"I don't think what you're going to hear tonight is policy. I think it's going to be more theater," said Senator Lisa Murkowski, an Alaska Republican. "And I don't know what's playing on [television] Monday nights, but something's got to be better than this."