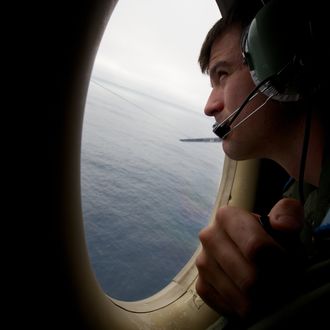 Photo: Pool/2014 Getty Images
Speculation about the pilots of Flight 370 has died down a bit with the rise of the ghost plane theory and the new focus on recovering objects spotted off the coast of Australia. However, on Wednesday a "high-ranking officer attached to a special investigative branch of the Malaysia police force" cast new aspersions on Captain Zaharie Ahmad Shah, telling USA Today that he's believed to be solely responsible for the crash. The investigator, who's been on the case from the start, says the plane was "deliberately" diverted, and the pilot was the only person on board with the expertise to manage the change in course.
The official said there was nothing in the 53-year-old pilot's finances to suggest he hijacked the plane for money, and he hasn't been connected to any terrorist group. Zaharie was a strong supporter of opposition leader Anwar Ibrahim, and was in the courtroom when he was sentenced to five years in prison for sodomy on the day before the plane disappeared. Since Malaysian authorities have suggested that Zaharie's opposition to the ruling coalition is a sign of radicalism, it's hard to trust an anonymous Malaysian official's claim that he's the primary suspect.
On Wednesday, one of Zaharie's family members spoke out for the first time to dismiss the theory that he diverted the plane for some nefarious reason. Ahmad Seth, the youngest of the pilot's three children, spoke to the New Straits Times, an English-language newspaper in Malaysia. "I've read everything online. But I've ignored all the speculation. I know my father better," said the 26-year-old student. "We may not be as close as he travels so much. But I understand him." He added that the families are just "waiting for the right confirmation" about the fate of their loved ones. "I will believe [that there are no survivors] when I see the proof in front of my eyes," he said.