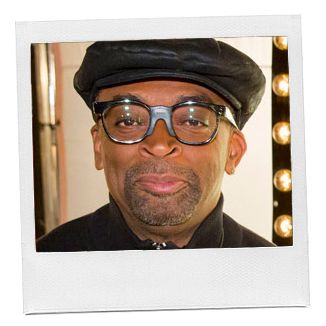 Name: Spike Lee
Age: 56
Neighborhood: Upper East Side
Occupation: Filmmaker/Educator. You can catch him tonight at 11 p.m. on the MSG Network in the premiere of The Lineup: Best NY Movies as he joins Ed Burns, John Leguizamo, Jeffrey Lyons, and host Fran Healy in a debate to determine the ultimate New York gangster movie.
Who's your favorite New Yorker, living or dead, real or fictional?
Malcolm X. If someone asks why, they gotta read The Autobiography of Malcolm X. Next question.
What's the best meal you've eaten in New York?
Too many to answer. Next.
In one sentence, what do you actually do all day in your job?
Work. W-O-R-K.
What was your first job in New York?
I had a New York City job for youth, when I was like 17 or 19, scooping ice cream at Baskin Robbins in Brooklyn Heights. It's not there anymore, but it was at the corner of Montague and Clinton. It was a job! My flavor is Butter Pecan.
What's the last thing you saw on Broadway?
The last thing I saw was Motown the Musical, for the fourth time. I love it.

Do you give money to panhandlers?
All the time. They know who I am and if I have some change I give — I'm not giving them $100 bills or nothing, you know, but I give all the time.
What's your drink?
I like Champagne.
How often do you prepare your own meals?
I don't cook. I don't even boil water.
What's your favorite medication?
Not going to a Knicks game, now. I need medication.
What is the best thing in or about your apartment?
My house? Great artwork. I collect photographs, paintings, sculptures. I have some Jacob Lawrence, Gordon Parks, James Van Der Zee photographs, Andy Warhol prints, Basquiat drawings, and a lot of movie posters. I love it all.
What's the craziest thing you've ever seen on the subway?
I just remember that growing up, we used to ride between the cars. Back then you had one chain and you were out the subway car. You can't do that anymore. Usually the only time I ride the subway today is when I'm going to Yankee Stadium.
When was the last time you stayed out past 3 a.m.?
Oh, last night. I'm in L.A. for the Oscars. I don't usually do that. The last time before was New Year's Eve.
Which do you prefer, the old Times Square or the new Times Square?
Old. This one's too clean [laughs]. It's not just clean, it's antiseptic.
What do you think of Mayor de Blasio?
I don't know enough yet. I mean, he hasn't had a good beginning so far, with the snow. He's the mayor so he is to blame, whether it's his fault or not.
What do you hate most about living in New York?
Well, I just come from a different era and it's just getting so expensive. I just fear that New York City is going to lose its heart and soul because if you're not a millionaire you're not going to be able to live here. And we're getting close to that point.
If you could banish one person from New York forever, who would it be?
I'm not going to answer that question. Nope.
When's the last time you drove a car?
Oh, like a year ago. My wife Tonya doesn't think I'm a good driver, that's for sure. But I got my license at 35 because she was tired of driving me around.
Finish this sentence: The NYPD _____.
I'm not answering that question. Next. Next question.
Times, Post, or Daily News?
I get a lot of stuff online. But I read the Daily News and Times daily, sports section first.
Where do you go to be alone?
My offices.
What makes someone a New Yorker?
That'll take four hours to answer that. You know it when you see it.