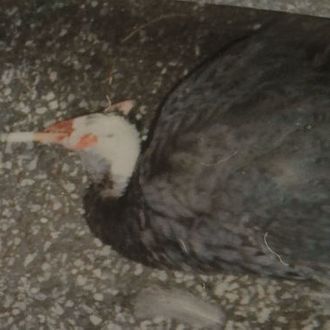 Continuing to give Florida and Ohio a run for their money: Staten Island.
A neighborhood dispute ended with a dead guinea hen, photographed with a cigarette in its mouth, after a 32-year-old woman knocked over her 80-year-old archenemy, the Staten Island Advance reports. Michelle Conti faces felony assault charges, plus one for torturing and injuring animals, for the accused attack, which culminated in a Sunday morning drive through her neighbor Charles Gabel's flock of hens. She then kicked the dead bird and posed it for a picture. "I was being a jerk," she told the Advance. "That's not a crime."
"There's been an ongoing dispute with my neighbors for over a year," she explained. "They are driving me crazy and they own over 15 hens. They make noises and sounds from sun up to sun down which cause me not to sleep. They [expletive] all over my yard and street."
Late last year, Conti's husband was charged with public lewdness for flashing Gabel.
Conti contends that Gabel has a swastika flag hanging in his barn (he says it's historical) and that she accidentally hit the bird. The kick and photo were on purpose, though. "You know what?" she said. "Bad judgment. I was being a jerk, I really was."