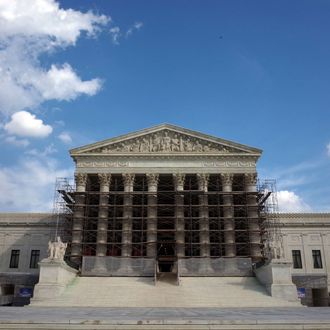 Photo: Mandel Ngan/AFP/Getty Images
This morning, the Supreme Court heard the big case of its term in the form of Sebelius v. Hobby Lobby, the fight over Obamacare's contraception mandate. The crafts store, while private and for-profit, is owned by Evangelical Christians who believe birth-control methods like the morning-after pill are the same as abortion and do not wish to cover that option for employees. (The case is combined with a similar suit from Conestoga Wood Specialties, a Mennonite business, which also sued under the 1993 Religious Freedom Restoration Act.) Based on 90 minutes of argument, the experts believe the court — that is to say, Justice Anthony Kennedy — is at least moderately Team Hobby Lobby. 
The court "expressed skepticism of the legality of the Obama administration's refusal to accommodate for-profit companies' religious objections," Politico reported. It "signaled on Tuesday it may allow corporations to mount religious objections to government action," said Reuters. "A divided Supreme Court seemed inclined to agree Tuesday that the religious beliefs of business owners may trump a requirement in President Obama's Affordable Care Act," according to the Washington Post. And even MSNBC admitted that Kennedy, typically the deciding vote, "seemed to agree with the conservative Justices."
The women on the court, not so much. "How does a corporation exercise religion?" asked Justice Sotomayor. "How do we determine when a corporation has that belief? Who says it? The majority of shareholders? The corporate officers? The — is it 51 percent? What happens to the minority? And how much of the business has to be dedicated to religion? 5 percent? 10 percent? 90 percent?"
Justice Kagan worried about the slippery slope: "So another employer comes in, and that employer says, 'I have a religious objection to sex discrimination laws'; and then another employer comes in, 'I have a religious objection to minimum wage laws'; and then another, family leave; and then another, child labor laws," she said. Paul Clement, the attorney for the companies, insisted that that "parade of horribles" would not happen, and that the courts could sort it out.
"Congress has made a judgment and Congress has given a statutory entitlement and that entitlement is to women and includes contraceptive coverage, and when an employer says, No, I don't want to give that, that woman is quite directly, quite tangibly harmed," Kagan asserted.
Solicitor General Donald Verrilli Jr. attempted to argue the rights of the employee, who could be denied contraceptive coverage, but birth-control expert Justice Antonin Scalia countered, "You're talking about, what, three or four birth controls, not all of them, just those that are abortifacient. That's not terribly expensive stuff, is it?"
(Wrong, said Verrilli, who cited IUDs, "far and away the method of contraception that is most effective, but has the highest upfront cost and creates precisely the kind of cost barrier that the preventive services provision is trying to break down.")
But Kennedy, likely the key here, challenged Verrilli: "Under your view, a for-profit corporation … could be forced in principle to pay for abortions?" he asked. "Your reasoning would permit that." A decision is likely to come down by June.