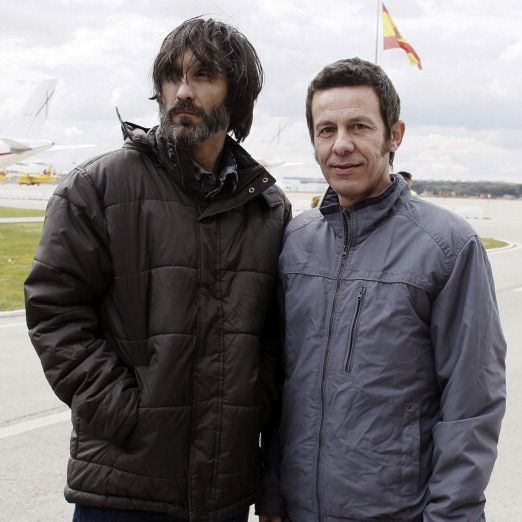 After six months of being held captive by a rogue Al Qaeda-linked group in Syria, Spanish journalists Javier Espinosa (a reporter), and Ricardo García Vilanova (a photographer) have been released. The two men called their employer, Spain's El Mundo newspaper, on Saturday to say they were in the care of the Turkish military.
Their colleague, Marc Marginedas, who'd also been captured by the group, Islamic State in Iraq and the Levant, in September was released earlier this month. Of the three men's release, El Mundo wrote, "One reporter said that for three Spanish reporters to return safe and sound we needed not one, but three winning lottery tickets. There are those who believe in luck, but others in miracles." Espinosa and Vilanova flew back to Spain on Sunday. You can see the very moving photos of their return here.
The BBC explains that, according to correspondents who've worked in Syria, the Islamic State assumes all foreign journalists and aid workers are spies and has orders to arrest them. As a result, Reporters Without Borders recently called Syria the most dangerous country for journalists, claiming 17 foreign journalists and 20 more Syrian news providers are currently being held hostage by rebel groups or are missing. Another 40 Syrian professional and citizen journalists are being held by the government. The Associated Press adds that press freedom groups are blaming the Islamic State for still more kidnappings and deaths of religious figures, humanitarian workers, and human-rights defenders since the conflict began there in March 2011.