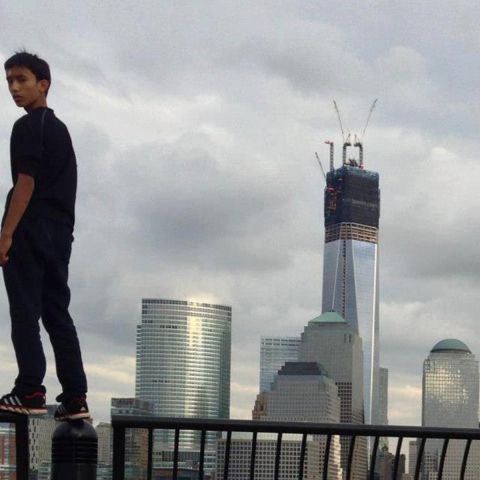 Photo: Justin Casquejo/Facebook
The $40 million, "fortresslike" security system around the new World Trade Center is apparently not yet functioning at full capacity. Justin Casquejo, a New Jersey teenager enamored with the building, as well as parkour and climbing things he shouldn't, made it to the spire of the tower around 4 a.m. on Sunday, past at least four layers of security, including a snoozing guard and an awake-but-ineffective elevator operator. "A long way from home," he tweeted just before 1 a.m. that night, the message sent from lower Manhattan. 
(Along with maybe limiting his middle-of-the-night adventures, an adult should probably make Justin cool it on social media, or at least set his profiles to private.)

On March 16, Casquejo allegedly crawled through a hole in the fence, took the elevator to the 88th floor sans I.D., and then took the stairs to the 104th floor before slipping onto the roof. "He came here and he ran hog wild," a worker told the New York Post. The elevator operator has reportedly been reassigned and the guard fired.
"We continue to reassess our security posture at the site and are constantly working to make this site as secure as possible," said Port Authority chief security officer Joseph Dunne in a statement.
Casquejo was charged with misdemeanor trespassing and told friends on Twitter that he was without his phone. "I'll explain tomorrow," he wrote, while also retweeting messages of support with the hashtag #FREEJUSTIN.