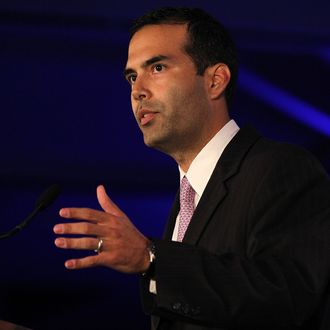 It was a good night for fans of political dynasties.
Photo: Justin Sullivan/2011 Getty Images
While there were some small victories – including runoffs for 90-year-old Representative Ralph Hall and Lieutenant Governor David Dewhurst – tea-party challengers failed to unseat two Republican congressional leaders in Tuesday night's Texas primary. Representative Pete Sessions beat a local tea party leader by a two-to-one margin, Senator John Cornyn trounced Representative Steve Stockman by 40 points. Stockman's loss wasn't all that shocking, as his unhinged campaign mainly consisted of attacking Cornyn on Twitter. The senator made a very restrained dig at Stockman in his victory speech, saying, "Sometimes people will lie about your record. It does happen and not everything on the internet or on Twitter is factual." In other unsurprising results, Republican Attorney General Greg Abbott and Democratic State Senator Wendy Davis will face off in the governor's race. Also, George P. Bush, son of Jeb Bush, won his first election. He's expected to become land commissioner in November, and the GOP's savior a few years from now.