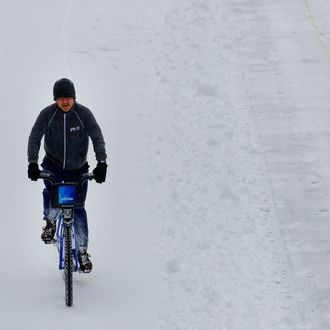 Photo: Jin Lee/Bloomberg/Getty Images
The plan was to let the bike-share system run normally all through the cold months. Then this winter happened. The excessive snow, ice, and rain over the last few months resulted in some bumps for Citi Bike, which had promised, tentatively, business as usual. "Citi Bike season is year-round, friends!" read a blog post before the first snow, titled, "Pro Tip: Embrace the Cold." But who knew it was going to be so bad?
The program "pulled a number of cycles off the street during the winter months to protect them from the record-setting snow and snow removal — leaving some popular docking stations across the city empty for hours at a time and in one case more than a day," DNAinfo reports.
According to the blog bikeshareNYC, which tracks these sorts of things, one station in downtown Brooklyn was empty for 15 days. "I believe that the system has a decent chance to become as necessary a part of the public transit mix as a taxi or an A train," wrote the site's concerned founder. "That can only happen if bicycles are consistently available in all served neighborhoods. And all served neighborhoods must be served equally."
He has a point: A surprising amount of people count on the bikes, even when it's freezing. During the polar vortex in January, nearly 7,000 trips were taken on the coldest day. "If you've got a twenty-minute cold walk or a five-minute cold bike ride, the five-minute ride is the best option," a bike share rep told Daily Intelligencer.
Citi Bike's original plan for snow, however — "NYCBS will relocate bikes from major streets to sidewalk and plaza stations and workers will shovel out stations promptly" — was less smooth in practice. "We have pulled in a number of our bikes to aid in plowing efforts and to minimize the impacts of salt and winter road grit on the bikes," Citi Bike's director of marketing and external affairs, Dani Simons, said, according to DNAinfo.

But for the system's first winter, especially one like this, it wasn't so bad — more isolated hiccups than an all-out disaster, assuming the bikes will still work come spring. Like the rest of us, Citi Bike made it through, weathering only a bit of whining. The worst is over.