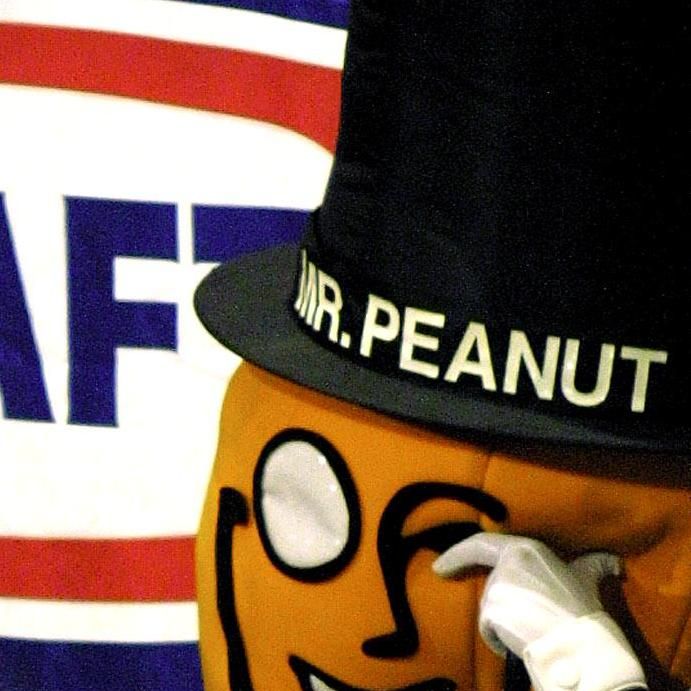 Come on
NYT
, you're embarrassing Mr. Peanut.
Photo: DOUG KANTER/AFP/Getty Images
Over the years, the New York Times has introduced the world to many dubious trends, from chopped salads, to teenagers hugging each other, to très Brooklyn. However, today's entry stands alone, much like the single lens in an imaginary hipster's eye. The paper reports that the monocle is the hottest new fashion accessory – that is, if you're Alan Cumming, someone who frequents "trendy enclaves of Berlin cafes," or a fan of aspiring Miami rap musician Jose Vega, who's pictured wearing a monocle on his SoundCloud page. "I got it just to have my own style, bring something new to the table," explains Vega. "Also, I'm nearsighted."
You don't have to take the Times' word for it:
Martin Raymond, a British trend forecaster, credits the rise to what he calls "the new gents," a hipster subspecies who have been adding monocles to their bespoke tweed and distressed-boot outfits. On a recent trip to Cape Town, Mr. Raymond said, he saw such a group carrying monocles along with tiny brass telescopes kept in satchels.

"All of this is part of a sense of irony and a way of discovering and displaying old artisanal and craft-based technology," Mr. Raymond said. "You see the monocle appearing in Berlin, parts of South Dublin."
Though the paper admits "monocles are hardly everywhere," the denizens of Twitter refuse to accept that wearing nineteenth-century eyewear is a thing:
Please, please let hipsters tattooing this story on their person be the next big fad.