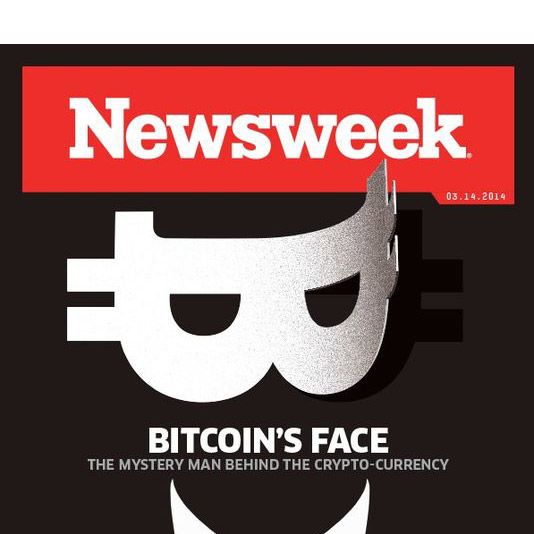 The relaunch of Newsweek's print magazine brought with it a huge scoop, if true, that claims a 64-year-old California man named Dorian Prentice Satoshi Nakamoto is the same "Satoshi Nakamoto" who invented the hip internet currency Bitcoin. Nakamoto's subsequent denials, however, coupled with the absence of any concrete evidence in the story, has Newsweek playing defense. And no one is enjoying the mess more than former editor Tina Brown.
Asked today on Bloomberg Television what happens if the article was wrong, Brown grinned. "That would be rough," she said. "All I can think of is I'm so glad I'm not the editor."
"But actually," she added, with a bit of shade, "I'm very supportive of their desire to get a print product out. I actually always thought there should have been a print component to the digital Newsweek. A small print component. But it is very hard. The ship has sailed. It really is a hard thing to bring it back. However, I do wish them well because I want every magazine that is out there to survive."
Newsweek, meanwhile, has released a statement insisting that reporter Leah McGrath Goodman's "research was conducted under the same high editorial and ethical standards that have guided Newsweek for more than 80 years." (The brand was purchased last summer by the International Business Times, which launched in 2005.)
"Newsweek stands strongly behind Ms. Goodman and her article. Ms. Goodman's reporting was motivated by a search for the truth surrounding a major business story, absent any other agenda," the public statement says. "The facts as reported point toward Mr. Nakamoto's role in the founding of Bitcoin." It goes on:
It is natural and expected for a major news revelation such as this to spark debate and controversy. Many of the greatest journalistic scoops have prompted similar reaction. Such debate is part of the democratic process and essential to the functioning of a free press.  Newsweek is committed to furthering that spirit of open discourse. At the same time, Newsweek encourages fellow members of the press and the public at large to focus on analysis of the facts at hand rather than rush to assumptions or resort to emotion.

Moreover, it encourages all to be respectful of the privacy and rights of the individuals involved.
Sharon Sergeant, a forensic analyst who worked on the Newsweek story, added in an interview with Business Insider, "It still comes down to the fact that we could not rule him out. And we tried."
Goodman, appearing on CBS This Morning, said when she spoke to Nakamoto face-to-face he "definitely acknowledged Bitcoin, and I think at this point now, he's saying he was confused by the conversation." (Nakamoto denied ever saying he was involved, in an interview with the Associated Press yesterday.)
"Seeing him flee a scene and now deny it," said Goodman, "I have to say, it's mystifying to me."
Update, 3:45 p.m.: Asked on Bloomberg Television about Tina Brown's reaction, Goodman said, "I find her comments not to be very friendly to Newsweek. I have a problem with the way she spoke about it. There's a backstory to that and she knows there is one." She added that Brown is "not objective."
Meanwhile, editor-in-chief Jim Impoco admitted that there was "some hedging" in the article. "Basically, we shaped it according to our level of confidence," he said.
"Did we realize that we were making a gutsy move? Yes. We could have put a Putin cover on," Impoco added in an interview with Mashable. "Go large or go home. This is Newsweek. We are raising the dead here. And you know what? People are aware of it now."