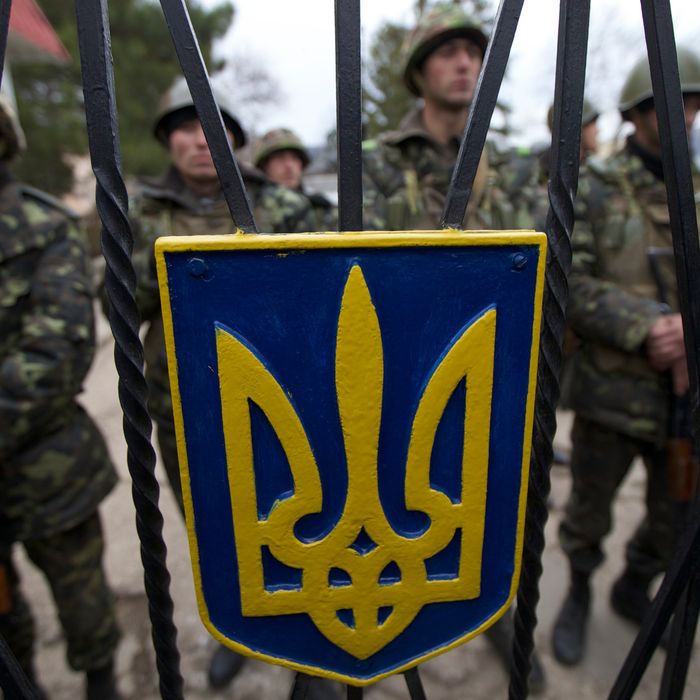 One day after Russia's parliament approved President Vladimir Putin's request to be allowed to use military force in Ukraine, Ukrainian troops are preparing for the possibility of war. On Saturday night, acting Ukrainian President Oleksandr Turchynov ordered his country's military to be at "full readiness" in anticipation of "potential aggression" from Russia. He also ordered "stepped up security at nuclear power plants, airports, and other strategic infrastructure." "This is the red alert, this is not a threat, this is actually a declaration of war to my country," said Ukrainian Prime Minister Arseniy Yatsenyuk, who also told reporters that his country was on the "brink of disaster."
Reuters reports that "Russia has staged war games with 150,000 troops along the land border [with Ukraine], but so far they have not crossed." However, Russian troops in unmarked uniforms remain in control of much of Crimea, an autonomous and mostly ethnically Russian region within Ukraine. The AP reports that, on Sunday, some of those soldiers "pulled up to the Ukrainian military base at Perevalne on the Crimean Peninsula in a convoy that included at least 13 trucks and four armored vehicles with mounted machine guns. The trucks carried 30 soldiers each and had Russian license plates. A dozen Ukrainian soldiers, some with clips in their rifles, placed a tank at the base's gate, leaving the two sides in a tense standoff."
The New York Times reports that Russian troops and pro-Russian "self-defense" forces surrounded other Crimean military bases, where they urged members of the military to join "the new authorities not recognized by Kiev." "They have to make a choice — they either obey the fascists in Kiev or the people," Sergei Seryogin, a pro-Russia demonstrator, told the Times. Denis Berezovsky, who was only appointed head of Ukraine's navy on Saturday, surrendered his headquarters in the Crimean town of Sevastopol and was filmed swearing allegiance to the pro-Russian leadership.
Meanwhile, in Moscow, at least 10,000 people participated in a "pro-invasion rally," the AP reports. The "dozens" of people protesting the invasion of Ukraine in Red Square were "quickly detained by Russian riot police."
Elsewhere, world leaders continued to condemn Russia's actions in Ukraine. President Obama held a 90-minute phone call with Putin, during which he called Russia's movements a "clear violation of Ukrainian sovereignty." He also told Putin that the United States was suspending preparations for the G8 summit in Sochi, which is scheduled to take place this June. Secretary of State John Kerry also took to the Sunday morning talk shows, where he called the situation in Ukraine "an incredible act of aggression. It is really a stunning, willful choice by President Putin to invade another country." He added, "You just don't, in the 21st century, behave in 19th-century fashion by invading another country on completely trumped-up pretext." He also said that he'd spoken to nearly a dozen foreign ministers about the issue, and "all of them, every single one of them are prepared to go to the hilt in order to isolate Russia with respect to this invasion. They're prepared to put sanctions in place, they're prepared to isolate Russia economically." Later on Sunday, the White House announced that Kerry will travel to Kiev on Tuesday as "a gesture of support" for the new government there.
This post has been updated throughout.