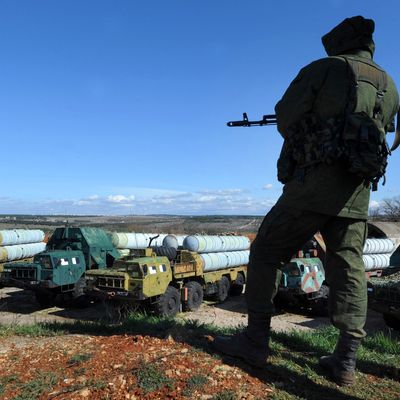 Photo: VIKTOR DRACHEV/AFP/Getty Images
Despite "a long day of discussions" between Secretary of State John Kerry and his Russian counterpart, the U.S. has so far failed to get Putin and Co. to sit down with Ukraine on the Crimea issue. "We initiated a process today that we hope will eventually lead to de-escalation," said Kerry. Meanwhile, in Crimea, the United Nations special envoy was being threatened by a gang of armed men.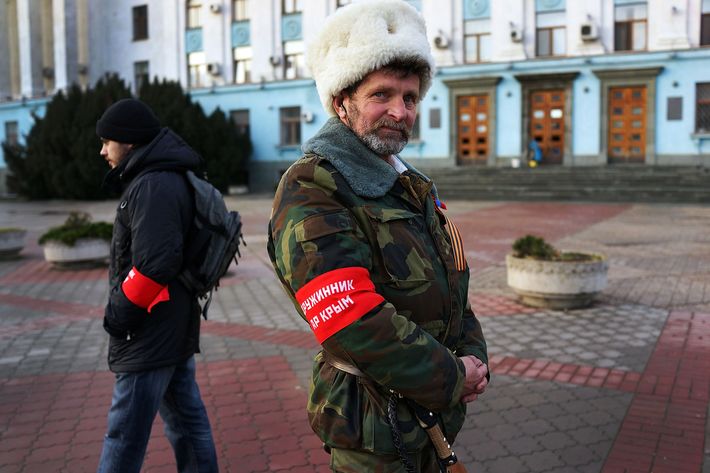 "I think this incident is just an example of how serious the situation has become and my hope is that everybody will realize that this situation is very urgent now and we must find a way to de-escalate the situation here," said Robert Serry, who ended up trapped in a coffee shop with journalists after the run-in. "That is the lesson of what happened to me." (ITV News has exclusive video.)
Despite Russia's dubious claims that the forces on the peninsula are there of their own accord, not Russian soliders, Serry was "surrounded by crowds shouting the name of Russian President Vladimir Putin." The ambassador eventually escaped safely and promptly hopped on a plane, telling journalists he was "happy to leave … if it helped de-escalate the situation." No judgment here.