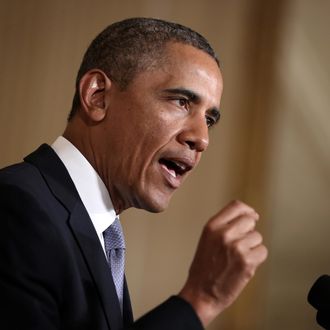 Photo: Alex Wong/Getty Images
One day after the people in Ukraine's Crimean peninsula voted to join Russia (and subsequently applied to do so), President Obama signed an executive order freezing assets and banning visas for Russians "who wield influence in the Russian government and those responsible for the deteriorating situation in Ukraine," including several members of President Vladimir Putin's inner circle. A White House official reminded reporters that the these are "far and away" the most "comprehensive" sanctions the United States has applied to Russia since the end of the Cold War.
"We'll continue to make clear to Russia that further provocations will achieve nothing except to further isolate Russia and diminish its place in the world," Obama said in a press conference. To that end, the European Union also approved a list of sanctioned Russian individuals, though their names will not be released until Tuesday.
Update, 3:00 p.m.: Putin has signed a decree declaring Crimea a "sovereign and independent country."