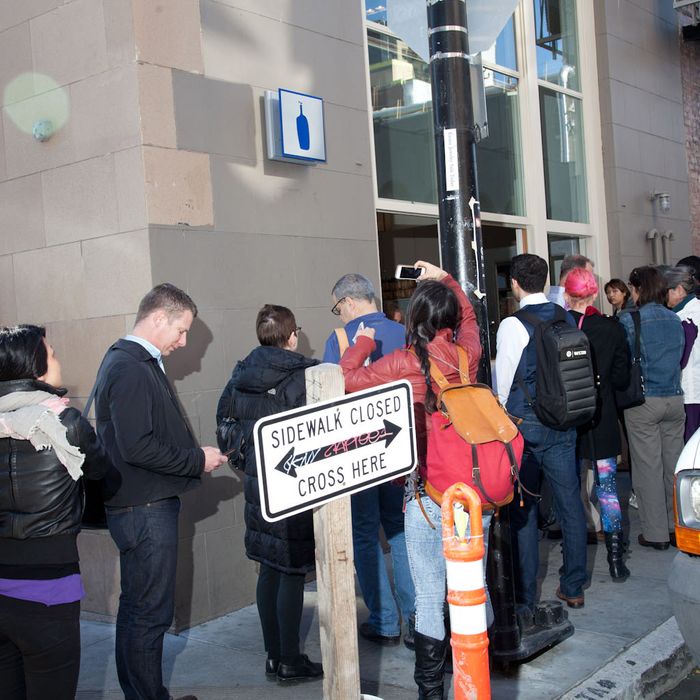 Everything in San Francisco drips with tech money, not least of which the coffee. Jack Dorsey, a founder of Twitter and Square, has bankrolled a new outfit called Sightglass, with café/roasteries in SoMa and the Mission. Last year Philz Coffee, a well-loved ten-year-old chain, took "an eight-figure investment" led by the VC firm Summit Partners. But the greatest recipient of tech-world adoration, both monetary and emotional, has been Blue Bottle, which in January raised almost $26 million from a syndicate of venture capitalists and well-heeled angels; this new round brought the total investment up to $46 million, or not too much less than the total funding in Instagram ($57.5 million) before Facebook acquired it for a billion dollars.
That might seem a little weird — artisanal pour-over drip coffee you might have to wait in line for more than an hour for could seem like an odd category for internet speculators. But the tech guys love the special hardware (the old-fashioned glass-globe siphons, the Japanese flannel filters used for pour-overs). They love the spare design aesthetic (often compared to an Apple store). They don't see how anyone wouldn't want to drink what they want to drink. And more than anything, these tech VCs — as members of a profession that venerates visionary founders above all else — appear to love Blue Bottle's zealous CEO, James Freeman. "If I close my eyes," says the entrepreneur and investor Tony Conrad, who led Blue Bottle's VC rounds, "I feel like I'm talking to Matt Mullenweg, or Philip Rosedale, or Caterina Fake, or Evan Williams." Just to translate: founders, that is, of WordPress, Second Life, Flickr, Twitter.
A few weeks after Blue Bottle's most recent infusion of capital, I meet Freeman, at his newest Bay Area retail creation: a café in the long-abandoned W. C. Morse building, originally a showroom for trucks in the 1920s. Freeman is in his late 40s, with round tortoiseshell glasses and a soft intensity of speech.
He acknowledges that the chain's current pace of growth (roughly one new store per year) has been slow, by VC standards. "Under the terms of our investment, we're not pledging to open a particular number of shops, so we don't have to open any," he says. "But that would kind of be rude." And yet it's impossible to imagine that his particular passion within the business — "creating worlds," as he puts it, with a painstaking attention to detail on each — could possibly scale at his own ambitions, let alone a VC's. In other words, tech money threatens to do to James Freeman what it's done to so much in San Francisco: that is, to grab hold of some largely good things — whether transitioning neighborhoods or communications tools — and make them take off at such a vertiginous pace that public goodwill toward them evaporates. Freeman, for his part, seems somewhat resigned to this new phase. "If we're a chain, let's be an awesome chain," he says. "There is a number that, if we add that number of stores every year, that will be the number at which we start to suck. My job is to imagine what's just before that number."