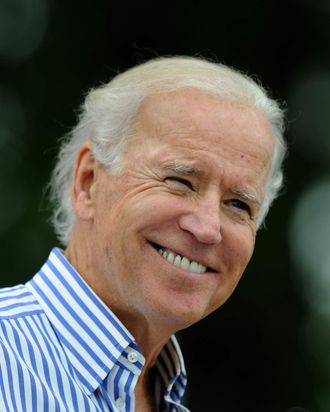 U.S. Vice President Joe Biden speaks at the 36th Annual Harkin Steak Fry on September 15, 2013 in Indianola, Iowa. Sen. Harkin's Democratic fundraiser is one of the largest in Iowa each year.
Photo: Steve Pope/Getty Images
Don't let the vice-president's down home politicking style and old-school interests fool you: He still wants his complexion to match his youthful energy (insofar as that is possible for a 71-year-old man). In an interview with Rachael Ray set to air next Monday, Biden broke with his Onion character to say that he regularly applies "a men's version of Clinique skin cream" recommended to him by his wife, Jill. If only he'd tell us which product he uses to keep that signature twinkle in his eye.