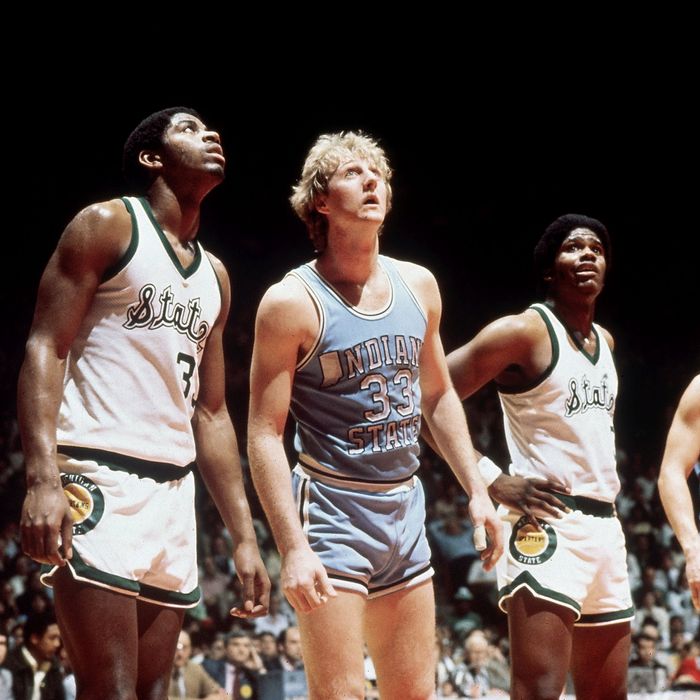 Photo: James Drake/Sports Illustrated/Getty Images
A couple of years ago, the basketball team I root for, the University of Michigan, had a player named Zack Novak. Everybody loved his story. He was slow and pudgy coming out of high school, recruited by nobody, and offered a spot at Michigan. Turned out he could play, at least some. He was only six foot three, but he played power forward, compensating for his lack of size and skill with unrelenting effort. He graduated from the business school and became team captain. If you watch college sports, you know the kind of player I'm talking about. Right: a white guy.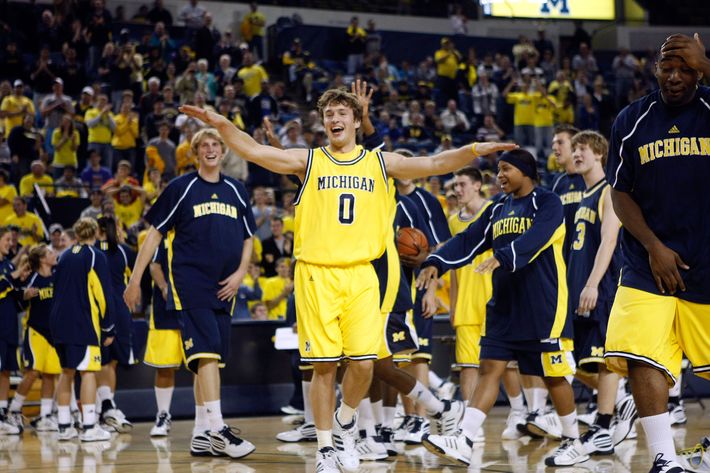 If you ever watched a Michigan game, you knew Novak's story, because the announcers talked about it every time. And it was very easy to see: Watching him hang in there on the low block against opponents five or six inches taller every game was a constant miracle. He was a gritty, hustling, tough, smart overachiever. Racial stereotyping in sports coverage is a decades-old phenomenon. In Novak's case, nobody minded because the stereotypes were completely true. But watching every single game Michigan plays has given me some perspective on how race continues to inflect coverage in sports-media.
The player for Michigan the announcers like to talk about now is a kid named Nik Stauskas. He's also white. He's not especially gritty or tough. He's an incredible scorer with good height, phenomenal shooting range, and an ability to unleash dunks or acrobatic layups. The thing the announcers mention every game — the fact that is incorporated into the shorthand notes they use to define a player's story line — is that Stauskas worked hard in the off-season to gain muscle.
That's true. Though it's also true that Stauskas remains really skinnyand shows no special grit. Also, in contrast to the easy stereotypes of white players, I've noticed he makes a lot of mental errors with his passes and sometimes lacks effort on defense. Watch him on these two plays letting opposing players run right past him on the fast break for a layup:
He seems like a nice kid, and he's still a great player. But mainly he's just a remarkable talent playing in a great offensive system. Michigan fans have a running joke about announcers marveling that Stauskas is (they say this nearly every game) "not just a shooter" — unlike the stereotypical white player, he has the athletic ability to fly past defenders and soar into the air. The announcers are sufficiently aware of his ability to acknowledge that he is not just a shooter, but not aware enough to realize that the fact they need to mention this is a joke on their eyes.
The thing is, there is a player on the team this year who's almost exactly like Zach Novak. His name is Jordan Morgan. In high school, he was pudgy, slow, and small. No major conference programs except Michigan offered him a scholarship. But he physically transformed himself and has become, like Novak, an amazing overachiever. As a six-foot-seven center, he's almost as undersize for his position as Novak is. He won't shoot unless he's within a couple feet of the basket, and often not even then, because opposing players can often swat away his shot attempts. Instead he spends most of every offensive possession throwing his body around the court, setting screen after screen to open up shots for his teammates.
He uses leverage, smarts, and unrelenting effort to gain every inch of advantage fighting against opposing centers. Morgan is a fifth-year senior who already graduated with a degree in engineering, and is studying for a master's degree in manufacturing engineering.
But the announcers don't talk about this stuff even one-tenth as often as they did Novak. And when they do, they don't use terms like "gritty," "unselfish," "scrappy," and "smart." My explanation is that it's because he looks like this: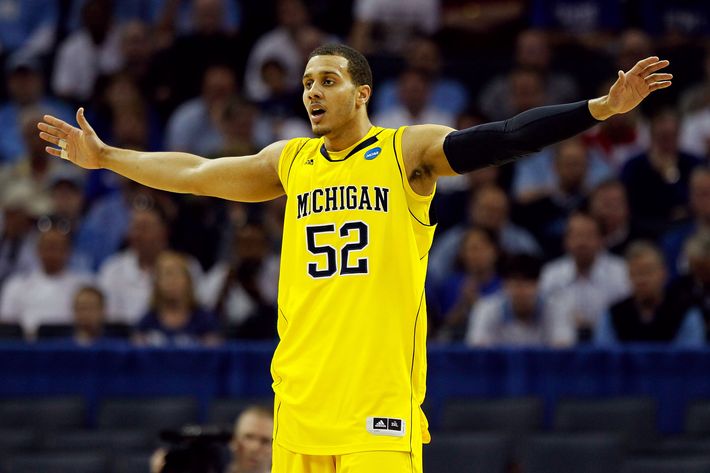 Yeah, he's black. Now, don't get me wrong — I don't think anybody wants to suppress the story of an undersize, pudgy engineering nerd who made himself into a gritty, overachieving captain on a Big Ten champion team and who is also black. I bet the national media would love a story like that. I suspect they just don't see it.
The gulf in physical talent between Novak and other players was glaring. Now, look at Morgan, with his gigantic biceps. If you don't know him and you are using a simple heuristic, you probably think he's a pretty good athletic talent, even if if is a little short. You don't think about the fact that he gained that muscle after intense weight training. (Announcers never mention it.) And so one player is surrounded by a narrative of hustle, smarts, and toughness, and another player with the exact same qualities is not.
The situation is far better than it was three or four decades ago, when announcers would liken the skills of black players to animals. Today, they have some awareness of racial stereotyping. What's left, I think, is far more characteristic of how racial bias typically works. Bad intent does not come into play. White people simply have certain preconceptions, and preconceptions make you see the things you expect to see and miss the things you don't.