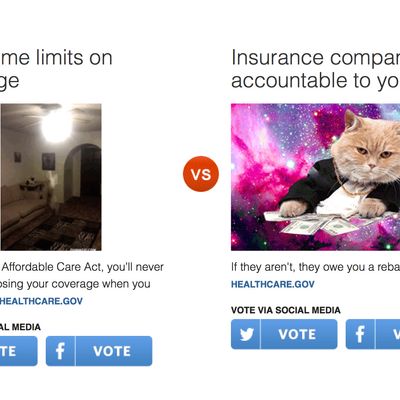 With the March 31 deadline around the corner, Obamacare is still one million enrollments short of its goal of six million sign-ups. And with just 25 percent of enrollees between ages 18 and 35, the White House is continuing to reach out to the kids, following the president's appearance on "Between Two Ferns" and a call into the Ryan Seacrest show to defend his dad jeans.
But desperate times call for desperate measures: Yesterday, whitehouse.gov launched the "16 Sweetest Reasons to Get Covered," a listicle encouraging viewers to vote on their favorite GIFs, including falling twerkers, leaping cats, and happy pandas.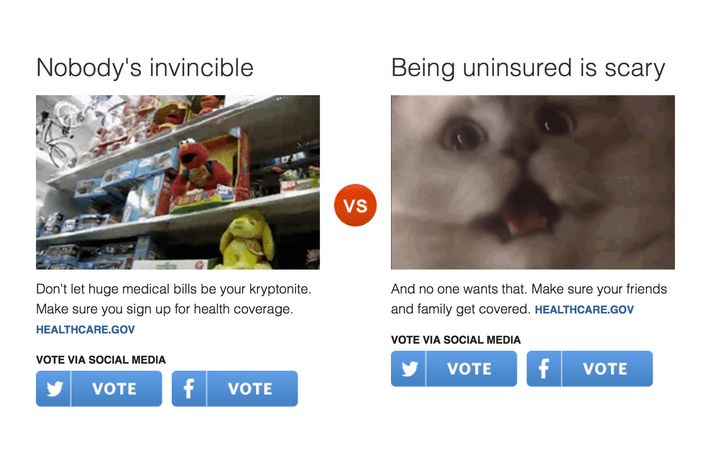 Each image linked arguments for Obamacare such as, "Because accidents happen," "No lifetime limits on coverage," and "Health care should be a right, not a privilege." The bracket will be updated with the winners daily. (We've got early money on the falling twerker.)
The wide-ranging Obamacare marketing scheme has even more youth-based efforts planned, including PSAs from coaches and athletes like LeBron James, and a special Affordable Care Act edition of Obama's annual NCAA bracket. We're holding out for Secretary Sebelius selfies — she's a Jayhawks fan.