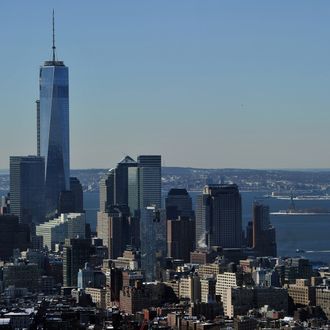 Photo: STAN HONDA/AFP/Getty Images
The recent, very high-profile security lapses at the new World Trade Center — including a trio of BASE jumpers and a 16-year-old parkour/Twitter enthusiast — have, rightfully, increased media scrutiny of the symbolic site. But while CNN tried and failed to prove how easy it was to sneak in, the New York Post hit the tabloid jackpot: a photo of the ground-floor guard on Saturday night, in what looks very much like a state of slumber. It gets worse!
The 65-year-old guard, who was reportedly fired on the spot, said his eyesight is "hazy" because of a nerve condition. "Sometimes I cannot recognize people, stairs," he explained. "That post was so hard to cover for me. It was very, very stressful. I could barely see half of the lobby."
But like dads on couches everywhere, he denied passing out completely. "To my knowledge, actually," he added, "I was not sleeping. I was mistaken to be sleeping. I was exercising my eyes." And after exercise, comes rest.