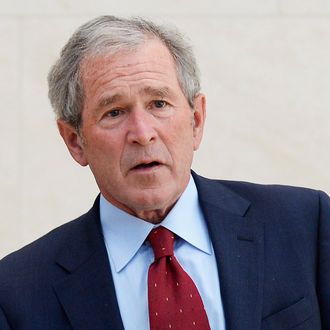 HBX alumni association president George W. Bush.
Photo: Kevork Djansezian/Getty Images
I can't really understand any of the words in this story – there's lots of mumbo-jumbo about "disruptive innovation" and "intended synergies" – but I think what it's saying is that Harvard Business School, which is somehow facing "growing constraints in revenue" despite a surfeit of old white dudes lining up to give it millions of dollars – is opening an online-education division, which will offer a "Credential of Readiness," or "CORe," to people who complete three online courses and pay $1,500 in tuition.
There won't be a Section X at HBX, as Harvard's online venture is called. But the coursework will take only seven to ten hours per week, according to this much more readable rundown by the Boston Globe. And while it will initially be open only to 1,000 students at other Massachusetts schools, it will soon open to the masses, which will create many more instances of a truly delightful interview scenario:
"So, Mike, I see on your résumé you studied business at Harvard?"

"Ah, yes, I had a great time at HB [cough] X."

"Me too! Man, HBS, what a place. I miss those long nights poring over cases in Baker."

"Yeah, um, me too."

"Say, what section were you in?"

"Well, I was actually … in an online-only clus — you know what? I think traditional credentials are overrated."
On the plus side, HBS seems to be planning for some résumé-gilding. "Here's something you can put on your résumé and say, 'I've completed these three courses from,'" says the HBX faculty advisor.
Here's our advice, aspiring HBS MBA-holders: Take your $1,500, invest it in a cornhole set, a few pairs of Chubbies, a FT subscription, and a $100 haircut, and you'll be closer to the real thing anyway.