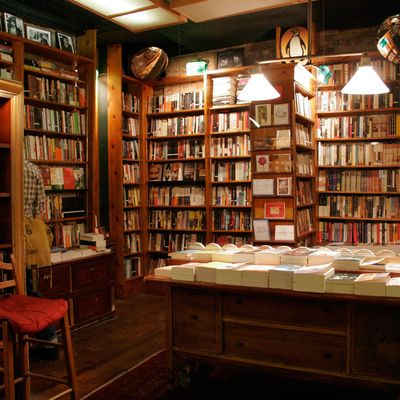 Inside Three Lives
Photo: Shanna Ravindra
The doors closed Friday on the beautifully vaulted century-old space that houses the Rizzoli Bookstore, only the latest in a long line of midtown book emporia whose steady mass extinction seems to so handily showcase the Death of Print. Just two weeks ago, the New York Times ran a front-page story specimen blaring the headline "Literary City: Bookstore Desert."
That story probably drove a small flood of sympathetic customers to Manhattan's endangered booksellers (St. Mark's Bookshop, Bank Street Bookstore, and maybe certain branches of Barnes & Noble). But alarmist rhetoric aside, it was a familiar tale: Not about the end of reading, but about New York real estate — inexorably rising rents and the few businesses that can afford them. It's a challenging landscape for anybody, but probably especially challenging for bookstores after all. The same Department of Labor database the Times cited, showing a nearly 30 percent decline in Manhattan bookstores between 2000 and 2012, also found Brooklyn actually gaining a bookstore (from 50 to 51) in the same period. Look closely at a few of those — as well as Manhattan's hardiest survivors — and the city's Darwinian, post-Bloomberg ecosystem begins to look less like a literary desert than a harsh but productive driver of bookstore evolution. Here's how a few of the success stories have managed.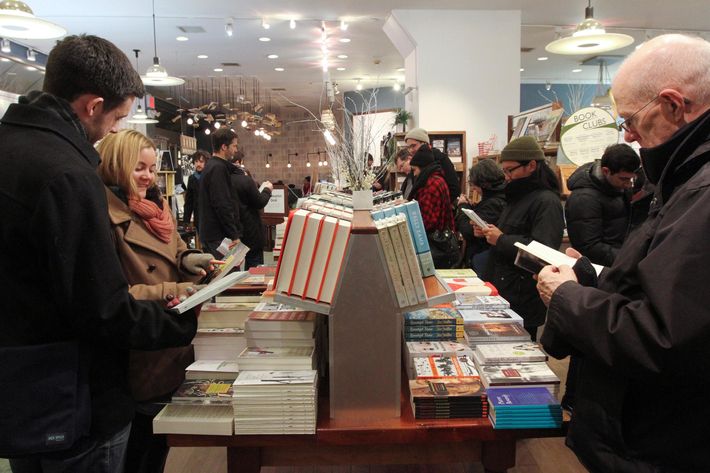 Walk the line between indie and superstore. That gloomy Times story was pegged to Sarah McNally abandoning plans to open an Upper West Side outpost of McNally Jackson, her decade-old, large-for-an-indie shop in Nolita. But McNally will have you know that, first of all, her rent is already completely astronomical (though she won't say what it is), and second, she's doing just fine. She attributes more than $4 million in sales last year to an obvious factor: volume. "Instead of getting rid of shelf for display," she says, "we've gotten rid of display space for shelf space." So 65,000 books have been squeezed into 7,000 square feet (along with a café), while creative organizing keeps them compulsively browsable. "I always try to make a bookstore that on the surface is extremely welcoming to all types of readers," she says, while conceding, with a sly mock apology, that she sometimes neglects big new books: "You won't find a lot of cheerleading for the frontlist, for which I'm sorry to the publishing industry." In the fall, McNally will indeed open a new outpost — in Williamsburg. —Boris Kachka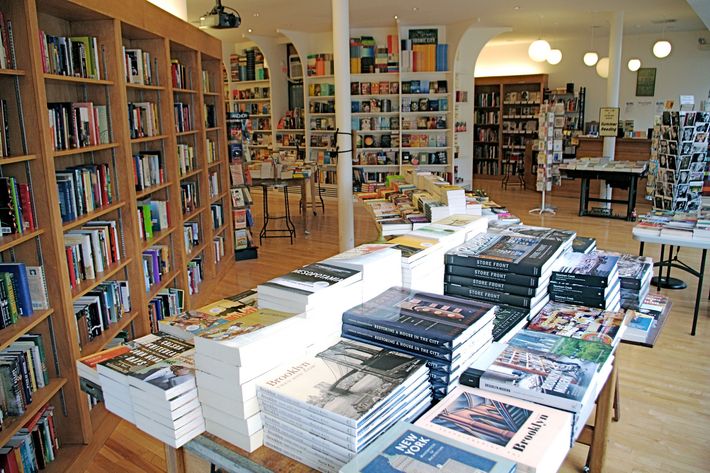 Chase philanthropic support. Brooklyn's most notable new arrival — call it the 51st store — is Greenlight Books. Jessica Stockton Bagnulo, a former events coordinator for McNally Jackson, decided to open her own bookstore in the teeth of the 2008 crash, which hit publishing particularly hard. But her plan won a Brooklyn business contest worth $15,000, just as the Fort Greene Association revealed the results of a local survey: The No. 1 service residents most sorely lacked was a bookstore. The trade group contacted Bagnulo — already in talks with her current partner, Rebecca Fitting, a sales rep at Random House, who was ready to kick in $50,000. They held a gathering at BAM (Colson Whitehead and Jhumpa Lahiri showed up) to solicit community loans, which eventually added another $75,000. Then they landed $150,000 from the World Trade Center Small Business Recovery Fund. They also got a rent break on prime Fulton Street — $5,250 for 2,000 square feet, soon to hit the near-market rate of $7,500. The annual double-digit growth since comes down to curation, engagement, and location. Greenlight became an official merchandise vendor to nearby BAM, which led to a more aggressive strategy of pursuing offsite sales. They've organized a new reading series at St. Joseph's College, which hosted Gary Shteyngart in January and will soon feature best sellers Elisabeth Gilbert and Khaled Hosseini. They've even hired someone specifically to handle offsite events — 3 percent of the take as of last fall, but a growing part of the business in a city without a lot of square footage to spare. —B.K.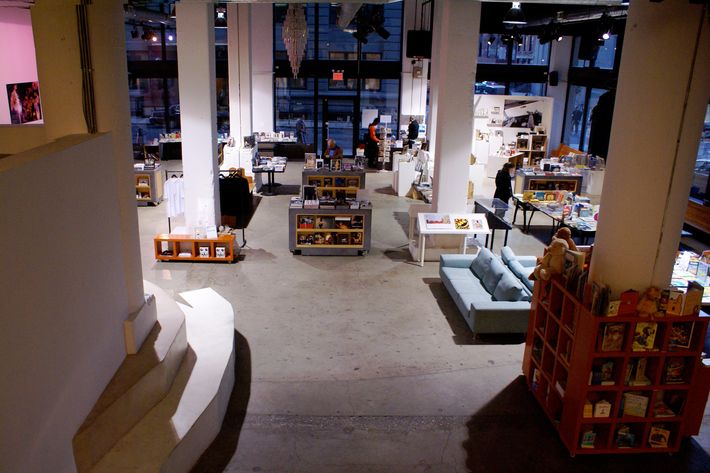 Forget books, sell the space. A recent ad for Verizon Fios features two laptops competing for bandwidth in what looks like a Bushwick loft that crashed into an Apple store. It's actually PowerHouse Arena: a 5,000-square-foot "laboratory for creative thought," exhibition hall, party space, shoot location, and, oh right, bookstore. "We don't have a lot of giant, traditional diversity," says owner Daniel Power, referring to the store's rather limited stock. "We're just very careful in what we select." His art-publishing house, PowerHouse Books, occupies another 5,000 square feet of mezzanine, and at first the store sold mostly the books they themselves published. But now 60 percent of their space (and 95 percent of book sales) is given over to others, including better-known literary fare. There are no shelves, just tables, the better to accommodate large-scale events (the top corporate rate is $8,000 a night). Rent for the combined 10,000 square feet is $22,000 a month, well below what you'd pay anywhere else in bougie Brooklyn, and PowerHouse can make it back with just one major commercial shoot — like that Fios ad, or a Japanese-language Sarah Jessica Parker spot for Coca-Cola Lite. The store represents less than half of PowerHouse's total business, which is a good thing, because since the Arena opened in 2006, the best it's done is break even. But last year it broke even for the first time on book sales alone — though those photo shoots and events certainly helped. —B.K.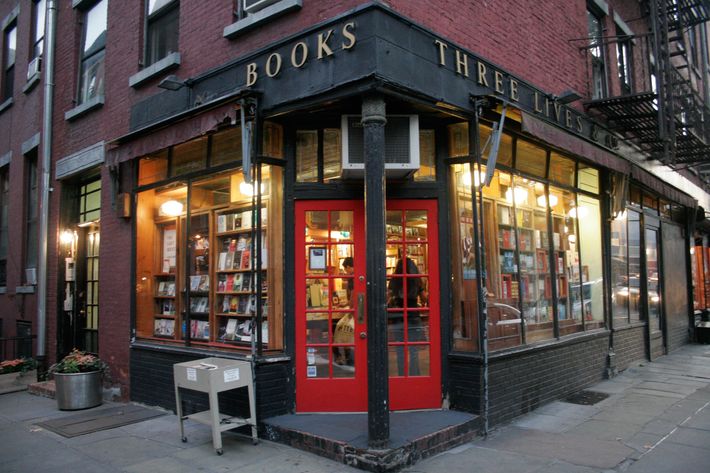 Hang on until the nearby Barnes & Noble closes. At Three Lives, Toby Cox sells between 500 to 1000 books a week with the help of one full-time employee, four part-time employees and two "booksellers emeriti," that is, former employees who still moonlight for fun. The West Village bookstore, on the corner of West 10th in a former grocery story, runs on a modest profit — enough to pay his bills, meet his payroll, and keep stock current but not much more. The tattered awning is still tattered. The tin ceiling dilapidated. "But that's what the regulars like," Cox says. 
The early years of the great recession "were hard years," he continues. "We cut back the hours of staff, cut down on our stock and just waited for it go get better." But at the beginning of 2013, Barnes& Noble, the megalithic bookstore that occupied a corner a few blocks east, abruptly closed. "Suddenly," said Cox, "people realized we were here." The immediate uptick in business "was noticeable. I never thought of Barnes & Noble as a competitor. I didn't think our customers overlapped. But after they closed, I realized they had been taking our customers after all." 
At 600 square feet, Three Lives is about the size of the test prep section at a big box bookstore, but the layout is streamlined for sales. The front half is where new releases dwell, like charcuterie. ("I could pay a month's rent on The Goldfinch alone," he says). Any time a book is bought, the entire shelf must be reordered, since no books of the same color spine may be adjacent, lest they appear erroneously as a set.  "It's a bit of an obsession, I guess," Cox says, replacing a stack of Teju Cole's canary-yellow novel Open City with Sebastian Barry's burnt-ochre-hued A Long Long Way next to David Peace's shocking yellow-covered The Damned UTD. "The yellows were too similar," he says when pressed, "it just didn't look right." — Joshua David Stein
Get out from under your debt. Park Slope's Community Bookstore is Brooklyn's oldest continually operating bookseller, founded in 1971 by Susan Scioli. She still owns the building and lives upstairs, but in 2001 she sold the store to her manager — who by 2009 was barely managing. When Ezra Goldstein and Stephanie Valdez took over the store the following year, they inherited a ratty rug, an unused fridge, hundreds of thousands of dollars in debt, and a virtual menagerie. The one thing Goldstein and Valdez didn't inherit was a decent number of books. "The stock was terrible," Valdez says. "The kids section was pretty much empty." Publishers wouldn't even sell them books directly that first year because the store's credit was too bad. The turnaround began around Christmas 2010, after Goldstein took out $10,000 in savings, bought up stock from distributors, and filled the store with books customers had long been requesting. Within a year, they'd broken even, and their annual sales have since doubled, breaking $1 million last year. They gambled that, despite a massive Barnes & Noble nearby, there was still demand for kids' books; now it's more than 30 percent of the stock.
They held a grand 40th anniversary party in a church across the street, starring locals like Paul Auster and Jonathan Safran Foer. It was a coming-out party for a store many neighbors had written off. "It takes a very long time to restore a reputation," says Goldstein. A lingering problem is the high rent on Seventh Avenue. Theirs will rise to $9,500 in September — more than triple what PowerHouse pays per square foot. In two years, the lease will be up. "It's essentially time to start panicking," says Valdez, before correcting herself. "Preparing." And yet, they recently bought out a used bookstore in Windsor Terrace from an owner in similarly dire straits. "We couldn't help ourselves." —B.K.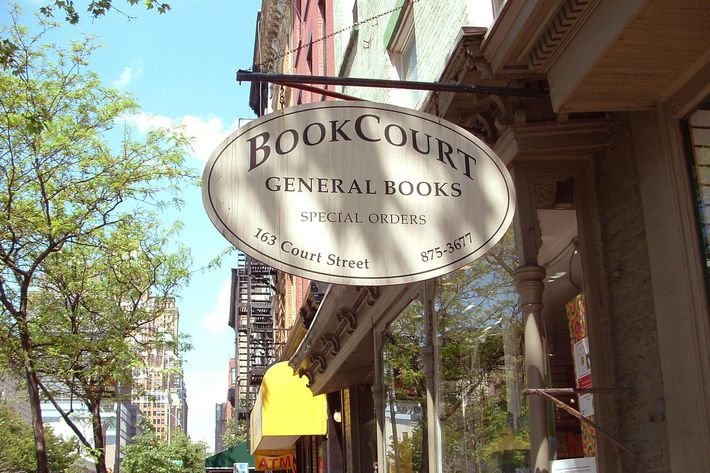 Buy the building. BookCourt's owners Henry Zook and Mary Gannett can tell you exactly why the Cobble Hill mainstay has been around since 1981 and managed to expand just as the economy crashed: They bought their building, 163 Court Street, in 1984, for $160,000. So while other stores struggle with leases that seem to rise with every affluent (usually book-loving) new arrival to the neighborhood, BookCourt actually benefits by collecting rent from upstairs. In the mid-'90s, with their mortgage fully paid off, they also bought 161 Court* from their neighbor, a florist who was relocating to Florida. They'd already converted 163's dirt-floor basement into another store level, but that cramped addition was nothing like today's space. The original 800-foot store is now a warm and well-stocked vestibule; the front of the old flower shop is a welcoming kids' area; and in back, where the florist's dilapidated greenhouse once sat, there's now a large skylit atrium for readings, lined with enough books alone to dwarf BookCourt's original selection. Bolstered by some new funding, Zook and Gannett finally began renovating the greenhouse in 2006. Now there are dedicated sections for most of Brooklyn's favorite subgenres, from graphic novels to the paperback NYRB Classics. Asked how business has been, Gannett evinces the cautious optimism with which the couple has always handled growth. "Let me tell you, it's very tough," she says. "I think we were probably more profitable early on, ironically." But she's never regretted the expansions, which have raised their profile and their size in every way. Besides, she says, it was never really about the money. "This is not a profitable industry. There's no money in this." —B.K.
* This item has been corrected throughout.