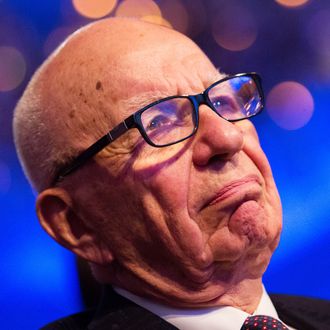 Photo: Drew Angerer-Pool/Getty Images
News Corp boss Rupert Murdoch, fresh off of a divorce but with a new $57 million four-story apartment and his beloved sons back in the company fold, is feeling mostly optimistic. In a wide-ranging chat with Fortune's Patricia Sellers, the 83-year-old mogul lays most of it out there, including details about his favorites in the 2016 GOP pool, when he plans to die, how much money he loses on the New York Post, and how it felt to hear that his wife was lusting after Tony Blair's butt.
1. Rich guys chit-chat about their competing businesses — sometimes you have the money and sometimes you have the influence, but it doesn't really matter when you're both rich and powerful. Although the Post may have lost about $40 million in 2012 according to Murdoch's memory (who can recall, really?), at least people read it. "I remember when [Michael Bloomberg] rang me one day to complain about some criticism in the Post. I said, 'I've just read Bloomberg View, and it absolutely lacerated me.' He said, 'Oh, nobody reads that.'" Ha-ha, who cares!
2. He still loves newspapers, but he's not romantic about the future of print. Asked if the Post will go all-digital in the next five years, Murdoch said, "I would think it might be quite likely in 10 years." As for his Wall Street Journal's print lifespan: "Maybe not in 20."
3. Fox News "absolutely saved" the Republican Party and does not "promote the Tea Party. That's bullshit. We recognize their existence." Keep telling yourself that, sir …
4. His often glorious, just as often out-of-touch Twitter account is a PR play: "people like [News Corp CEO] Robert Thomson have said, 'No, it's extremely good personal public relations to show you're interested in more than just making money.'"
5. While a Hillary Clinton presidency wouldn't literally kill him, Murdoch would prefer Jeb Bush, Paul Ryan, Chris Christie (he "could recover"), Scott Walker, and Rand Paul, roughly in that order.
6. The Wendi Deng rumors stung. "I was shocked," he said of the Vanity Fair story, which included excerpts from her diary. "But I didn't read them and I was not given them until after I had filed for divorce." He pretty much knew what was going on, though:
Well, you know, everybody was talking about these things and never telling me anything. I don't really want to go into this. But then I was told two pretty circumstantial things about the ranch [where Deng had been staying, according to Vanity Fair]. I was in Australia. When I got back, I naturally asked the staff, and it opened up. That's the story. And then, you know, a week later I filed. As soon as I could find a lawyer.
"I mean, I regret the whole Vanity Fair thing," he added. "I wish we just could have got divorced quietly."
7. He doesn't plan on dying any time soon. (He was asked directly, "How long do you think you will live?") "Well, my mother just died at 103, so that's a start," he said. "I'm going to be here for a long time." About as long as the Wall Street Journal is in print, at least.