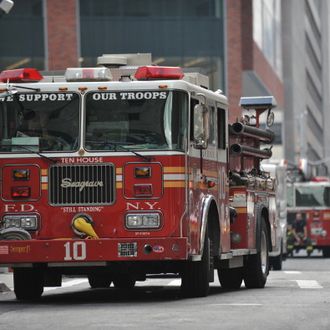 Last weekend, two 4-year-old half-siblings — Jai'Launi and Aniya Tinglin — died of smoke inhalation from a fire at their Far Rockaway home. While firefighters were on the scene six minutes after they were summoned, an ambulance carrying EMS didn't get there until 21 minute after the first 911 call, leading some to wonder if they could have done something to help the kids had they been there earlier. On Friday, the FDNY announced that three fire dispatchers and a supervisor had been suspended for botching the response to the emergency. They'll be off the job for 30 days without pay pending further investigation.
According to the Department of Investigation, the dispatchers should have sent an ambulance to the house immediately after receiving a signal from firefighters confirming that a fire was in progress. However, records show they waited seven minutes before doing so. (It took another six minutes for the EMS crew to get there.) From NBC New York:
DOI said two dispatchers also were not at their screens just before this call, adding that their supervisor "failed to ensure proper coverage" and failed to supervise the response by the dispatchers who were handling it.

The review also found that personnel records showed some of the dispatchers involved in the mishandling had prior disciplinary issues, including problems handling fire incidents. 
A relative of the children told the New York Daily News that they family was surprised that the city actually took action against the dispatchers: "[Jai'Launi's mother] just said, 'Oh my God, they did?' when I told her." Mayor de Blasio, who called the punishment "appropriate," told reporters that he intended to "implement reforms needed to prevent something like this from happening again" once the investigation is completed.