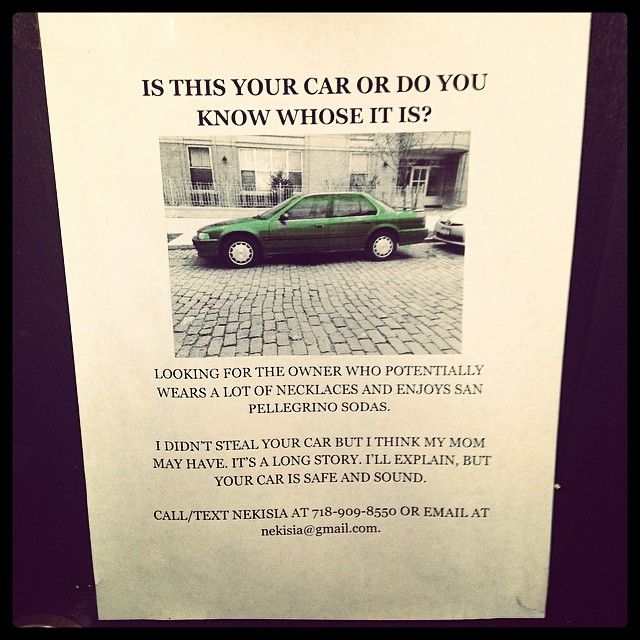 Yesterday we brought you the story behind the hilarious sign — "I didn't steal your car but I think my mom may have" — posted around South Brooklyn in reference to a green Honda Accord mistakenly lifted by a middle-aged woman from Texas.
Today, the happy ending: The vehicle is back with its owner after the NYPD eventually figured out what happened. Emilee Hickert, who assumed her car was gone for good, is pleased, for the most part. "The cops wouldn't let me grab it from the street — they impounded it," she told Intelligencer this morning. "It cost me $193 and it was in Bay Ridge."
The ordeal started more than ten days ago, when Hickert and her boyfriend spent the day around Red Hook only to come back to an empty parking spot. While they were gone, Cheryl Thorpe, a 55-year-old woman from Houston in town to house-sit for her daughter, had moved the car a block away — with keys to a different green Honda — thinking it belonged to her daughter's friend.
Hickert watched the easy heist on security footage from across the street. "I totally thought she was a pro. In less than a minute, she just walked up, got in, and got away," she said. "I felt like I was going to pass out or throw up."
Then yesterday, she got a call from the cops saying they'd recovered the vehicle — after Intelligencer inquired about it — but leaving out all of the strange details. "I really thought it was an urban legend," Hickert said of the key glitch. "It wasn't even the same model."
She's since been in touch with Nekisia Davis, the Brooklyn woman whose mother was responsible and recommended pitching the saga to The Ellen DeGeneres Show. "I was like, that's so cute — my friend in L.A. works for Ellen," said Hickert. "We actually talked to the Ellen Show twice yesterday. We're holding out to meet in person, in case we can do it live on the show."