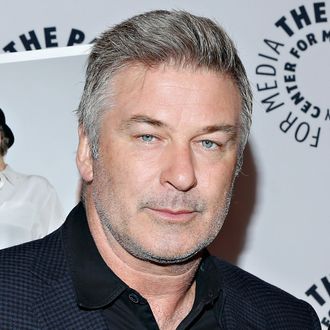 Photo: Cindy Ord/2014 Getty Images
He can't help himself, or he doesn't want to. Notoriously hot-tempered Twitter-fight addict Alec Baldwin, who has sworn off the service, the city, and public life multiple times, got into it again over basically nothing today, quickly resorting to his default tactic: questioning his opponent's manliness in a way that could be construed as homophobic."You're on your knees in that photo," Baldwin tweeted at former Mitt Romney aide Garrett Jackson, after a derisive mention of working in fashion. "What's up with that, Garrett?"
It all started with a tweet by Baldwin endorsing a documentary about the Keystone pipeline and a bad but innocuous comeback from Jackson:
It devolved predictably from there, before Baldwin pulled back a bit and bragged about his Emmys:
Even more predictably, Baldwin then deleted his potentially offensive tweets:
Baldwin has previously used the words "faggot," "uptight queen," "English Queen," "toxic little queen," and "cocksucking" in reference to his many enemies, none of which he meant in a gay way, of course. (Anderson Cooper even took the time to explain why "cocksucker" could be considered homophobic: "… to talk about a sexual act between two guys as being the worst thing you can possibly think of.")
In February, Baldwin wrote in New York:
Am I a homophobe? Look, I work in show business. I am awash in gay people, as colleagues and as friends. I'm doing Rock of Ages one day, making out with Russell Brand. Soon after that, I'm advocating with Jesse Tyler Ferguson and Cynthia Nixon for marriage equality. I'm officiating at a gay friend's wedding. I'm not a homophobic person at all. But this is how the world now sees me.
Yeah — what's up with that, Alec?