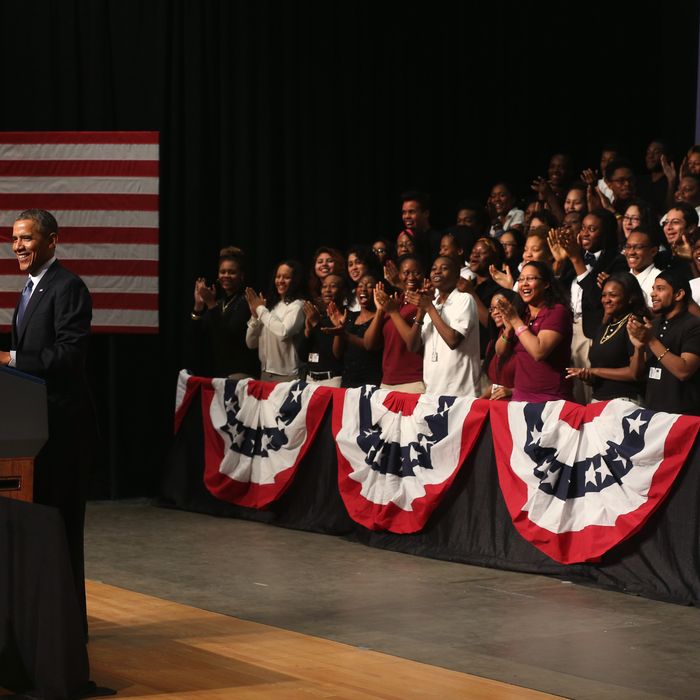 Photo: Mark Wilson/Getty Images
Last weekend, I appeared on Melissa Harris-Perry's weekend MSNBC show to discuss my cover story on racial politics. It was … not quite what I expected. The segment lasted 12 and a half minutes, and Harris-Perry spent almost half that time on an extended soliloquy about how I am wrong, only allowing me to join the discussion about my story for the second half.
There was also a panel following that segment, consisting of four panelists who agree with Harris-Perry and none who agree with me. I declined the invitation to stay for that part.
Harris-Perry followed up that show with a column in The Nation that is, if anything, ever weirder. She begins by endorsing a critique made by Jamelle Bouie in Slate, who argued that, rather than describing changes to the political landscape in the Obama era, I should have instead written a story about the lived experience of African-Americans. ("It has nothing to do with race as experienced in the 'day-to-day' lives of ordinary people. When a twentysomething black New Yorker talks about race, she isn't as concerned with the rhetoric of Republicans as she is with the patrol car that trails her teenage brother when he rides his bike to the corner store.")
Harris-Perry takes the criticism a step farther by asserting that my article is entirely about white people:
Chait defines this racial saturation of political life as the effect of the Obama presidency on debates between white liberals and white conservatives …

It is difficult to watch a smart, prominent political writer nonchalantly erase black people from the story of American political life …

When writers erase blackness from the political discourse, they violate the right of recognition that black Americans share alongside our white counterparts.
Well, that's just weird. The central premise of the story is the opening of a fissure in American politics that runs not between black and white, but between red and blue. I find it interesting that basic assumptions about Obama and race divide less by race than by partisanship — that white and black Obama voters share basic premises about the role of racism in America broadly and in national politics particularly. (For instance, reactions to the OJ Simpson trial two decades ago split along racial lines, while reaction to the George Zimmerman trial split along partisan lines.) It's not a racial fissure, but a fissure defined by how people think about race. But lots of those people are black! I do not understand the assumption that a description of American public opinion in the aggregate is a description of the views of white people exclusively.
The idea that my story "erase[s] black people from the story of American political life" is likewise puzzling. The article weaves through the contours of the political debate, describing subjects and critics of various races and points of view. Living African-Americans named in my story include Bob Herbert, Jonathan Capehart, John Lewis, and Henry Louis Gates. That's in addition to some of the intellectuals I spoke with off the record to help me think through the article.
Oh, and there's also this guy, whose beliefs are described extensively: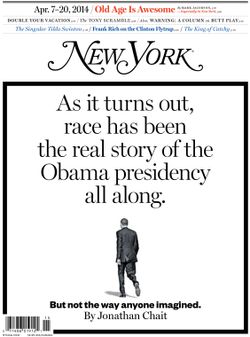 He's a really big part of the story. He's not white, either.