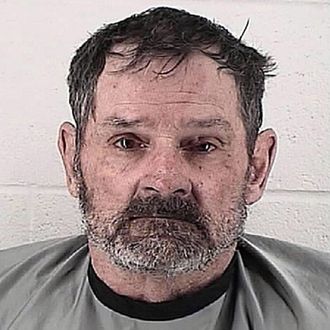 Miller.
Photo: European Pressphoto Agency
Like many people who spoke to the press in the wake of this weekend's deadly shootings at two Kansas Jewish facilities, Marionville Mayor Dan Clevenger felt the bizarre need to point out that the vocally anti-Semitic gunman, Frazier Glenn Miller, otherwise seemed like a decent guy. "He was always nice and friendly and respectful of elder people, you know, he respected his elders greatly. As long as they were the same color as him," said Clevenger, whose small Missouri town is the closest one to Miller's home (hat tip, TPM). "Very fair and honest and never had a bit of problem." However, the mayor differs slightly from others who vouched for Miller's niceness in that he was also willing to say that he wasn't totally opposed to the shooter's beliefs.
"Kind of agreed with him on some things, but I don't like to express that too much," Clevenger told local television station KSPR. Though he said that Miller "didn't have any right" to kill three innocent people, he wasn't shy about mentioning, "There some things that are going on in this country that are destroying us. We've got a false economy and it's — some of those corporations are run by Jews because the names are there." (A decade ago, he also wrote a letter to the editor identifying himself as "a  friend of Frazier Miller helping to spread his warnings" about "the Jew-run medical industry" and the "Jew-run government.") He also speculated that Miller would use his trial to "really state his views on things" and "go out with a bang." Basically, it'll just be another opportunity for Marionville's most prominent residents to do the place proud.