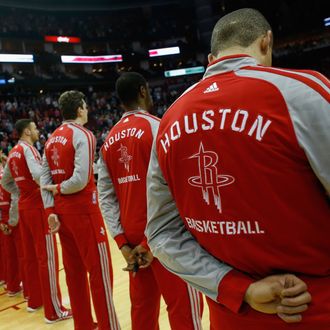 Photo: Scott Halleran/Getty Images
Food-server Rasean Tate, 28, is suing the Houston Rockets and Levy Restaurant Holdings, a company that handles catering at Barclays Center, for discriminating against him because he is gay, the New York Post reports. Tate claims that members of the Rockets mocked him as he was setting up a buffet for them before a February game with the Brooklyn Nets last year: "When the plaintiff's back was turned to defendant Rockets players, he began to hear laughter and taunting voices saying 'get this f—– out of here!' [and] 'He's trying to catch a sneaky peaky!'" says the suit, which doesn't call out specific players.
Tate says that he reported the incident to a Nets employee, who told him he would "take care of it." He also says that when he told his boss at Levy about what had happened, he "was offered a verbal apology and promised that the situation would be addressed." However, Tate claims he soon stopped receiving locker-room assignments, which caused him to lose hours and pay. Though he sent an email to Levy assuring them that he wanted to work "in all locations of the arena, including locker rooms and dressing rooms, in spite of the incident that occurred earlier in the year," he found himself suspended from his job in January for what are described as "trumped up" offenses, such as failing to give a customer a fork.
Representatives for the Rockets and Levy wouldn't comment on the suit when contacted by the Post. Barclays Center has not been accused of any wrongdoing, nor have the Nets, who reportedly underwent sensitivity training as a result of Tate's complaints about the Rockets, have been playing alongside openly gay player Jason Collins, and presumably know better.