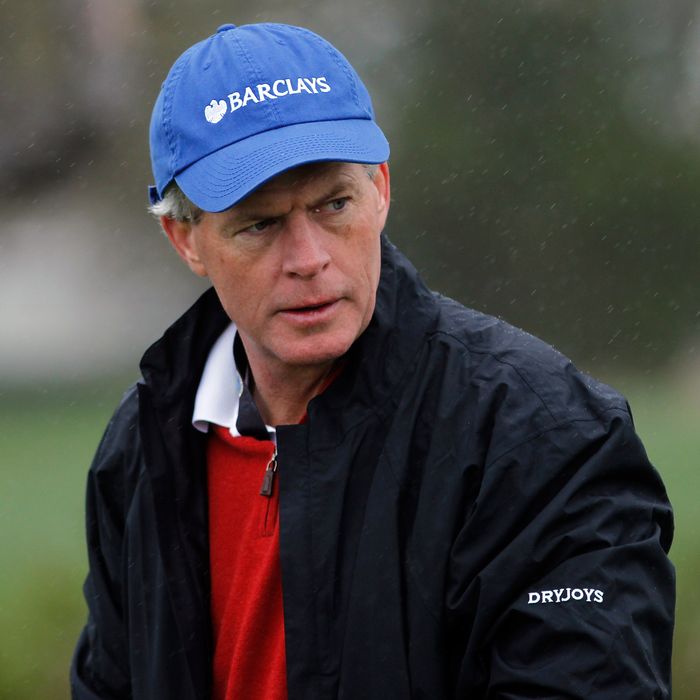 Skip McGee, Wall Street hero.
Photo: Michael Fiala/Reuters
Hugh "Skip" McGee III is a banker's banker, a sort of Ur-financier whose credentials (Princeton football, experienced golfer, numeral suffix) speak to the kind of Wasp pedigree that once qualified a man to work on Wall Street. Accordingly, McGee had the kind of career path that is only possible on Wall Street: a road marked by a series of expensive failures and egregious lapses in judgment that still, somehow, leads to million-dollar bonuses and, eventually, to the corner office.
McGee, the CEO of Barclays' U.S. division, announced today that he's stepping down as the bank retools itself as a smaller, safer, more British enterprise. Before he goes, let's take a walk down memory lane, and review some of McGee's greatest hits:
2007: McGee, then a leading banker at Lehman Brothers, leads the bank's involvement in the $45 billion leveraged buyout of the Texas energy utility TXU. It was a historically bad deal. TXU flopped, the economy went to shambles, and these days, the TXU buyout is known as the worst gamble in the history of private equity. (Today, in a bit of karmic timing, TXU's successor company filed for bankruptcy.)
2008: Lehman Brothers goes bust due to excessive leverage and heaping piles of toxic mortgage assets it had accumulated. (Perhaps related: McGee had "pushed for Lehman to take on more risk in 2006 and 2007.") Despite having played a supporting role in Lehman's downfall, McGee clings to the life raft of Barclays, the British bank that bought Lehman's U.S. operations, and is named investment-banking chief, where he becomes, in the Daily Beast's words, the "highest paid man on Wall Street."
2009: Now safely aboard at Barclays, McGee writes the Most Embarrassing Dad Letter Ever to his son's headmaster at Houston's Kinkaid School. In the five-page letter, McGee furiously complains that the school shut down a skit by his son's football team (in which they planned to dress in drag and perform a cheer) due to "negative gender stereotyping." He blames an American Studies teacher's political correctness for the decision, and says that the school's slide into liberalism (e.g. pandering to the gays) is intolerable:
In our rush to be "politically correct," we have become obsessed about pacifying even the most extreme of views—even if they are far from representative of the core values and character of Kinkaid families and alumni. By standing for everything, we actually stand for nothing. What happened to our ability to laugh at ourselves and have fun? What happened to common sense and good judgment? Why is a married, heterosexual coach considered an oddity at Kinkaid? Why is a gay female coach telling high school girls on her team that she was disappointed in them for belonging to the spirit club (SOK) and that by doing so they are just pandering to the football team?
The letter goes viral and does the trick: A month later, the school's P.E. director and upper-school principal resign.
2012: People at Barclays are caught doing very bad stuff with a benchmark interest rate called Libor. Barclays CEO Bob Diamond resigns, but McGee dodges the bullet, perhaps because he's busy playing golf with Tiger Woods.

2013: McGee is made CEO of Barclays in America, and a Bloomberg profile describes his morning routine, which centers on a ritual known inside the bank as "Skip News."

A rotating group of employees arrived at the office before dawn, sometimes by 4 a.m., to compile a digest they read aloud to him over his morning coffee, the people said.
March 2014: McGee (whose colleagues invariably describe him as "hard-driving," "intense," or some other synonym for "asshole") is given the largest bonus at Barclays, a $15 million year-end haul that is, hilariously, more than twice what his boss earns.
April 2014: Not satisfied with industry-leading pay, McGee steps down from Barclays. In the resignation announcement, Barclays credits the Dodd-Frank Act with forcing them to carve out the American part of their bank into a separate entity — a process that involves so much boring legal paper-pushing that McGee cannot possibly be expected to stick around for it. (After all, why would a banker who advocated for more risk before the financial crisis want to spend the rest of his life cleaning up the resultant mess?)

And so, an emblematic Wall Street career has come to its end. Unless, that is, McGee decides to take his talents to a rival bank. Which is entirely possible! After all, if even steering Lehman Brothers into the abyss, working on the biggest buyout disaster in history, and becoming the accidental spokesman for old-boy privilege at your son's school can't derail your lucrative banking career, you must be doing something right.
Update: McGee is not a "scratch golfer," according to Bloomberg, which pegged his handicap at 15 as of 2012. (It is now 19, according to the Texas Golf Association.) We regret the error.