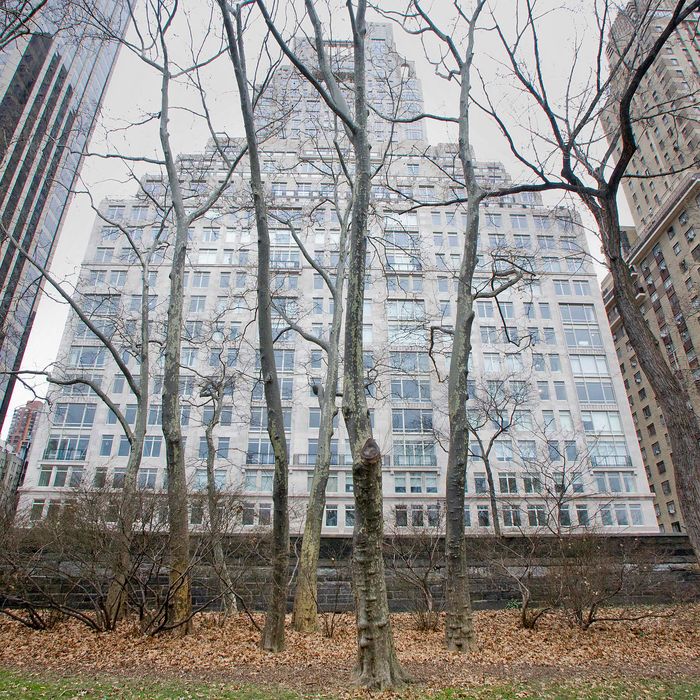 Photo: Jb Reed/Bloomberg via Getty Images
It pays to be an employee at 15 Central Park West. Author Michael Gross reports in House of Outrageous Fortune, his new book about the behemoth condo building, that the average worker there made $22,500 in tips during the holiday season in 2011, give or take a few Benjamins. (Designer Elie Tahari handed out $300 and a $200 shirt to each building employee when he rented there.) The resident manager purportedly makes $600,000 a year — before tips.
Not bad for tending to a tower full of influentials, plenty of whom have made Fifteen — its nickname, apparently — their base of power. It's probably not an easy job, and Gross says there were more servants at 15 CPW willing to gab than at 740 Park, the iconic co-op he first wrote about. But there were fewer "generations of relatives like there were at 740, happy to dish on their relatives or eager to relive or shine on a light on their family's glory days."
Other choice bits from the book:
• 15 CPW's developers were nearly felled by a quintessentially New York creature: the stubborn tenant. Herbert Sukenik, a longtime resident of the Mayflower, the hotel that once stood at the spot where 15 CPW is now, described in the book as a Ph.D. who was "hugely intelligent" and "too smart for his own good," became a multi-millionaire after digging in his heels and refusing to move even after demolition began. The Zeckendorfs paid him $17 million to vacate and put him up in an Essex Hotel condo for $1 a month.
• Getting into 15 CPW was almost as much fun as a tax audit. Its first buyers didn't have to sit for a co-op board interview. But they still had to run what one broker told Gross was a "brutal, ludicrous, anal" gauntlet, filling out a 32-page packet, and providing "personal and financial references, bank and brokerage account numbers, the names of schools they'd attended and clubs they belonged to, fill out a financial disclosure form and back it up with monthly bank and brokerage statements, and acknowledge they'd read and agreed to seven pages of single-spaced house rules." Plus, they had to pony up a $1,000 move-in fee, a $2,500 move-in deposit, two months of common charges, $1,400 for a credit report and application fees, and a forearm. (Kidding on the limb part, but whoa.)
• Denzel Washington got a (small) discount. Sources claim the actor's agent demanded to pay less than asking, so "in exchange … developers were given permission to publicize his purchase." His agent refutes this account, however, but says the actor, who's used to his every move being trumpeted, apparently "didn't care."
• Goldman Sachs CEO Lloyd Blankfein allegedly received hate mail during the financial crisis, and building staffers were asked to refrain from addressing him by name in the lobby. But he's well liked at 15 CPW and is described as "humble, sweet, always says hello." Another resident calls him a "sweetheart."
• Sandy Weill, formerly of Citigroup, on the other hand, who sold his penthouse there for $88 million, is remembered by one (anonymous) staffer as being "very demanding … An automatic call is made to the manager if a letter or a magazine doesn't arrive when it's supposed to." Some recall him as being generous, too, though, especially in his first year at the condo, when he's estimated by one to have doled out $90,000 in tips.
• A-Rod, who rented there for $30,000 a month, didn't deserve Cameron Diaz — at least according to some chatty 15 CPW insiders. One thought she "was way too nice for A-Rod," who was considered "a narcissist" by another source. During his tenure there, A-Rod supposedly dated Madonna, Kate Hudson, and Diaz. And one staffer says while he was dating all three, he allegedly had visits from call girls, an allegation that A-Rod's spokesperson told the Daily News was "defamatory."
• After paying $26.5 million for his duplex, musician Sting refurbished his new space, including getting rid of* a private elevator to his unit. (Correction: This post originally said Sting installed the elevator. Via Gross: "Further research reveals more about that mythical yet apparently significant elevator. In fact, Sting removed an elevator that originally came with his apartment.")
• Billionaires Carl Icahn and Daniel Loeb allegedly tussled over a $45 million apartment; Loeb won by not blinking at the astronomical price. Icahn supposedly offered half the asking, a story he dismisses, saying he only wanted one of two units that could be combined: "There was no hondling," Icahn is quoted in the book. "Bullshit." ("Page Six" reports that Loeb was upset that Gross and his book are being feted at the building via a party hosted by political cartoonist and resident Ranan Lurie and his wife, Tamar; it's still scheduled to take place as of this writing.)
As for One57, the glassy condo rising on 57th Street that's been garnering 15 CPW–level buzz lately for its high-stakes transactions, Gross isn't a fan. "Glass towers like that are just so 1999," he says. Guess that won't be his next book, then?