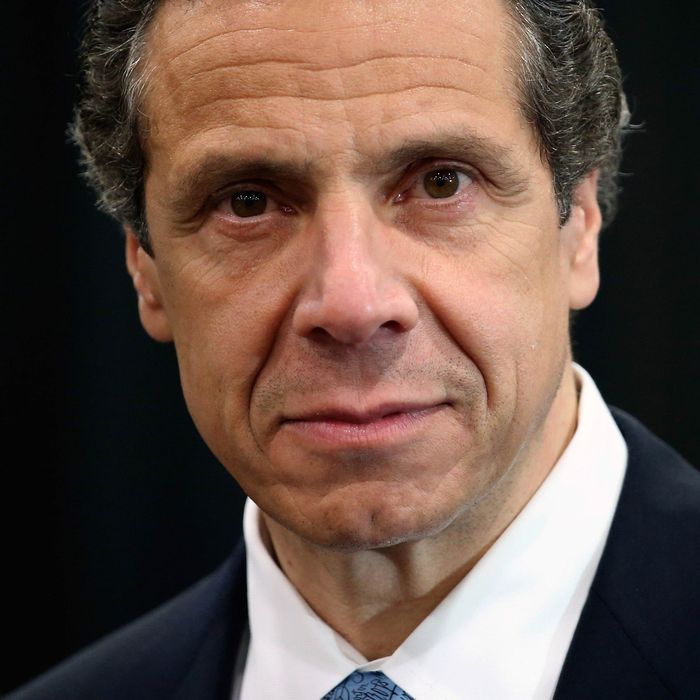 Photo: John Moore/Getty Images
Back in July, Governor Cuomo announced the creation of the Commission to Investigate Public Corruption (also known as the Moreland Commission), which was intended to independently investigate political corruption among New York state legislators. It didn't last long: The panel's relationship with the Legislature was tense, and watchdogs said that Cuomo's office was interfering with its work by requesting that it not issue certain subpoenas, among other things. At the end of March, Cuomo said that he was shutting the Moreland Commission down, and that new ethics laws targeting corruption would take its place.
But Manhattan's United States attorney, Preet Bharara, still has a few questions about the panel's failure to thrive. From the New York Times: 
Mr. Bharara sent the commission's chairmen and top officials a letter saying he was "disappointed to learn" of the commission's "premature end," acknowledging that its work was "aggressive, active and ongoing," but incomplete, and calling its shutdown "difficult to understand."

In the letter sent April 3, Mr. Bharara asked the chairmen and the commission's staff — all of whom were appointed by the governor — whether Mr. Cuomo had abandoned his commitment to fight corruption for a short-term political gain.

"The sequence of these events gives the appearance, although I am sure this is not the intent, that investigations potentially significant to the public interest have been bargained away as part of the negotiated arrangement between legislative and executive leaders," he wrote.
On Wednesday, Bharara told the Moreland Commission's 24 members that its chairmen, Onondaga County District Attorney William J. Fitzpatrick and former state and federal prosecutor Milton L. Williams Jr., had agreed to turn over the group's files. Bharara's investigators are expected to truck the materials away sometime on Thursday.
"We're going to look at the documents, we're going to see what the facts are, and if there are questions that are appropriate to ask, as I think the public knows by now, there are strong-willed and aggressive — but fair — people in my office who will ask those questions," said Bharara on WNYC's "The Brian Lehrer Show." He also said that he would take up the panel's unfinished work. Asked if he anticipated an ethics probe into Cuomo's dealings with the Moreland Commission, Bharara responded, "I'm not going to prejudge what we'll be looking at , what we'll be investigating, and where the facts will lead." Just in time for the governor's reelection season.