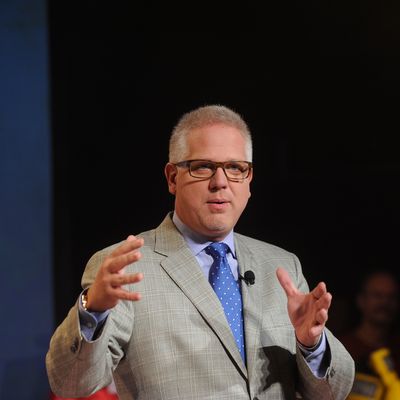 Photo: Kris Connor/Getty Images
A 20-year-old Saudi Arabian man, Abdulrahman Alharbi, is suing unhinged radio personality Glenn Beck and the company that produces his show, the Blaze, for defamation and slander, Boston Magazine reported on Tuesday. Alharbi, a student who lives in Revere, Massachusetts, caught Beck's attention last year when he sustained minor injuries in the Boston Marathon bombings and was briefly questioned by the police. Though the cops determined that Alharbi had no connection to the attack after searching his home, Beck "repeatedly and falsely identified Mr. Alharbi as an active participant in the crimes that were committed on April 15, 2013, repeatedly questioned the motives of federal officials in failing to pursue or detain Alharbi and repeatedly and falsely accused Mr. Alharbi of being a criminal who had funded the attacks at the Boston Marathon," according to the lawsuit filed on Friday in Boston's U.S. District Court.
In the days after the bombings, Beck claimed that Alharbi was set to be deported for "terrorist activities." His accusations continued after the Tsarnaev brothers had been identified as the perpetrators, with Beck referring to Alharbi as the April 15 attack's "money man" well into May. Alharbi told Islamic Monthly that his address and photos from his Facebook profile had been widely disseminated online, and that he had been called a "murderer, child killer and terrorist" by people who falsely believed he had something to do with the bombings. "It's not easy to forget," he said then. "Because you just going to write my name and search about [me], you are going to think I am from Al-Qaeda and, like terrible things." According to Boston, he has asked the courts to decide the amount of damages they feel is appropriate.