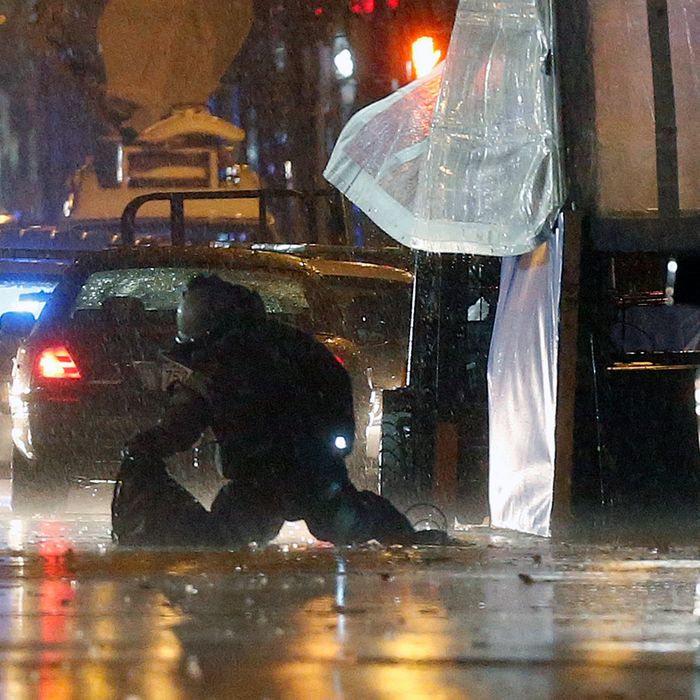 A member of the bomb squad inspects an object after a controlled detonation.
Photo: Michael Dwyer
The one-year anniversary of the Boston Marathon bombing was marked with multiple tributes to the victims and first responders, but the day had a disturbing ending. At around 7 p.m., police evacuated the area near the finish line when two backpacks were left along Boylston Street. WBZ-TV reports that at least one of the bags was dropped by a barefoot man wearing a black veil and a floppy hat, who yelled "Boston Strong!" as he marched down the street. Police say they have one male suspect in custody. 
The bomb squad was called in to inspect the backpacks, and detonated a bag left behind the photo bridge at about 9:00 p.m. The second backpack was detonated about 40 minutes later. Boston Police confirmed that "the unattended bags at the Finish Line have been disrupted for precautionary reasons."
This was the scene earlier today, when Vice-President Joe Biden, Massachusetts Governor Deval Patrick, and about 2,700 survivors and first responders gathered at the finish line for a flag raising ceremony: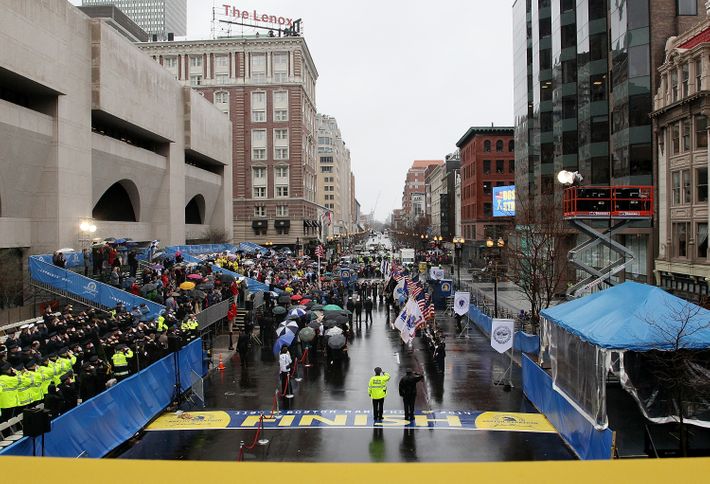 A source tells WBZ that police called in the bomb squad after the suspect said he had a rice cooker in his bag. Several videos have surfaced of the man parading down Boylston Street:
The Green Line suspended service to the Copley MBTA stop, and people in the area were told to shelter in place and stay away from windows. Here's video of police detonating one of the bombs:
UPDATE: The rice cooker in the first bag was filled with confetti, according to WBZ-TV. The second bag contained photography equipment and may have been forgotten at the event by someone else. Sources identified the suspect as 25-year-old Kayvon Edson, and said he's been charged with "disorderly conduct, disturbing the peace, and possession of a hoax device."