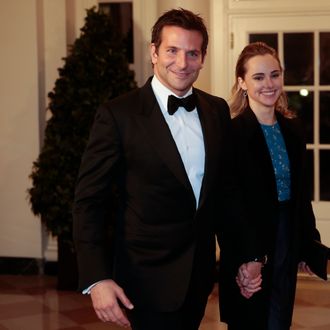 Cooper smiling at the state dinner because he's saved Obamacare and/or isn't wearing underwear.
Photo: Pool/2014 Getty Images
Zach Galifianakis has been getting all the credit for sparking the surge in Obamacare sign-ups that helped push enrollments past the original 7 million target. However, Politico reports that it was actually Bradley Cooper who made the president's "Between Two Ferns"appearance happen. Supposedly, while meeting with Valerie Jarrett to brainstorm Obamacare promotion ideas before the state dinner in February, Cooper "pushed hard" for his friend and Hangover co-star's web show, and even called Galifianakis and put him on speaker. Obama didn't fully understand the pitch when he heard it the next day. "Zach Galifianakis and Bradley Cooper are going to do this for me?" he asked.
Last month, Scott Aukerman, executive producer and director of "Between Two Ferns," told Vulture that he pitched the idea of an Obama guest spot to Jarrett in July. Cooper's name didn't come up, but it's possible that the Obama administration suddenly agreed to do the show thanks to the actor's plug.
If the story is true, Cooper has shown impressive restraint. When asked about the state dinner on Ellen, Cooper said he went commando because his pants didn't fit, but we definitely would have gone with the story about convincing the commander-in-chief to appear on our friend's dumb comedy skit.